World Cup 2018: England to review penalty shootout plans in Russia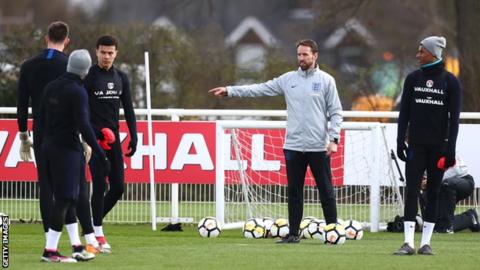 England manager Gareth Southgate is considering new approaches to taking penalties at the World Cup, including whether players practise them at all.
England have exited six tournaments in penalty shootouts dating back to 1990.
But England's World Cup-winning Under-17s have been testing spot-kick techniques and have shared findings.
That includes rating the most eager takers before a game, whether takers need practice and ensuring players have several 'go-to' penalties.
England begin their World Cup campaign in Russia on 18 June against Tunisia, but have lost on penalties in 1990, 1998 and 2006 editions of the tournament.
Southgate recently told an England fans forum broadcast on the Three Lions podcast: "We have already started a couple of projects with the players and with our analysis team on successful and unsuccessful shootouts."
FA technical director Dan Ashworth said part of that would involve players being encouraged to take their time approaching the penalty spot, with research suggesting it leads to more success.
But FA head of coach and player development Matt Crocker, who liaises with all England head coaches, said the under-17 side had benefited from changes in approach in the space of five months.
One of them was based on players saying they did not want to practise penalties every day.
Crocker told BBC Sport: "The head coaches meet once a week to discuss things like this and penalties is just one area we are looking to improve.
"Gareth and assistant coach Steve Holland are involved in everything that we do. They sit in on all our meetings."
Having lost the European Championship Under-17 final on penalties against Spain a year ago, they tackled six key areas and beat Japan on penalties en route to their World Cup win against Spain in India last October.
Six areas under consideration for England teams include:
Players' approach to practising penalties
How players regard penalties psychologically
How spot-kicks might affect extra-time performance
Organising before the game who will take penalties
The walk to the spot
Having more than one 'go-to' penalty
Crocker said the Under-17 players were consulted at team meetings at the National Football Centre at St George's Park.
That covered everything from whether they want to take a spot-kick through to practising more than one penalty based on the opposition goalkeepers knowing where previous penalties have been placed.
"Rather than thinking it's about the player practising penalties every day in training, some of the players told us 'we don't want to practise them every day'," Crocker said.
"Those who don't need it and just want to take it in a game, because that's their style, we tailor it specific to their needs.
"We then set up a loads of meetings with the players, where we said, 'Here's a scale from number one and number 10. Number one is desperate to take a penalty. I thrive in that environment; I love it.'
"Number 10 was, as soon as the final whistle goes, I can't wait to be in the dressing room. It's just not me. Honestly, we asked them where they sat, and some wanted to be sat in 12 or 13; there is a spectrum."
Crocker added: "You have chats about four big areas. Going into extra-time, what are you thinking? Some players were saying they get nervous at the back end of extra-time because of penalties, so it's starting to affect their game. So what can we do to try and help you get better and overcome that?
"When the final whistle goes, it's about being organised and having a plan. We've already agreed who is responsible as a coaching staff on who is taking penalties based on the 11 left on the pitch, who is taking what and in what order.
"The third part is the walk - how is it going to feel? It's OK to feel nervous as hell. When you spot the ball, are you going to rush it? How do you keep your same routine and rhythm as you normally would in a game?
"Finally, it's your actual action in striking the ball. You might be on your third penalty of the tournament, so you might need to have more than one go-to penalty and how as a player are you going to manage those four stages?
"For the penalty shootout against Japan, we were organised and on the halfway line ready, while the Japanese guys were still running round with the players still deciding."