Nuno Espirito Santo: Wolves boss cautious over Premier League return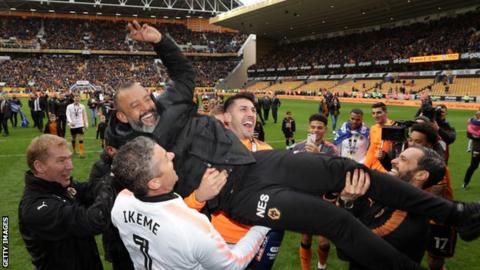 Wolves boss Nuno Espirito Santo says he needs to manage expectations around the club's return to the Premier League.
The Molineux side won the Championship by nine points, sealing automatic promotion with four matches to spare.
Although club officials are confident about their first season in the top flight since 2012, Portuguese Nuno remains cautious.
"I feel expectations are very high and I am the only one whose expectations are not so high," he told BBC Sport.
After reaching the last 16 of the Champions League with Porto in 2016-17, Nuno was persuaded to lead Wolves' assault on the Championship, partly thanks to his agent Jorge Mendes and also because of the vision of the club's Chinese owners, the Fosun Group.
In the 46-game league campaign, Wolves recorded 30 wins and only seven defeats, following each of those losses with victory - until the reverse at Sunderland on the final day.
Despite that, Nuno says his major achievement was convincing his players success could be achieved through his favoured brand of passing football, rather than the more conventional long-ball method.
"The big issue was the way we see football is not the way you see it," the 44-year-old added.
"If I had to adapt to the Championship and play like 70% of the teams, then I am not the right coach.
"The beginning of the season was beyond our own expectations. After that, easy! Not easy but it was big step."
Wolves won their opening three games and were never overtaken once they went top with a 2-0 win at Reading on 18 November.
Moving the tables
New to the English game, Santo had to manage a squad containing players from 12 different countries, who had five different native languages.
To stop groups gravitating towards their compatriots, Santo regularly changed the seating arrangements in the dining room at Wolves' training ground.
"They had small tables and we had groups of English, African and Portuguese players. They divided themselves because it's nature," he said.
"How are you supposed to communicate on the pitch when you don't off it?
"So I said: 'No, let's have a big table.' Then it was tables for five, which was not big enough for all the Portuguese speakers to sit together. It stopped them sitting in the same place all the time.
"It was interesting to see how it worked. But they got the message."
Leaving home
In an uncharacteristically open 45-minute post-season briefing with journalists, Nuno gave an insight into his life away from the pitch.
Unlike fellow Portuguese Jose Mourinho, the Manchester United manager, Nuno has moved out of a hotel and into a house close to the training ground.
However, as with Mourinho, his life centres around football because his wife and three grown-up children have not moved to England with him.
He said: "It would be a big mistake for me to be so selfish and take them away from their friends.
"I have big children anyway. They are at university and have their own lives - but we still see each other, it is two hours away."
Initially, Nuno said he had no hobbies away from the game.
But on the day the club celebrated their title win and promotion with a street parade, he revealed he has been learning golf and showed journalists a video recording of his players tricking him into playing a fake ball off the tee which exploded on impact, covering the manager in flour.