Neil Etheridge: 'Emotional rollercoaster' career made me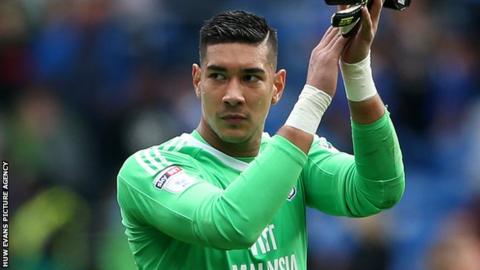 Neil Etheridge says his difficult and challenging career prior to joining Cardiff City helped to make him the goalkeeper and person he now is.
The Philippines international joined promotion-winning Cardiff on a free transfer after leaving Walsall.
However, the 28-year-old started 45 of 46 Championship games this season and played more minutes than any other playing at the club in the league.
"It's been an emotional rollercoaster," said Etheridge.
"Four years ago when I left Fulham I was out of a club for five months, I was paying for myself to train at Charlton Athletic.
"It's a hard industry to be in and a hard one to stay in but that's in the past now, it will never leave me, and it's made me who I am today."
'Sold my house, sold my car'
Etheridge, who has won 59 caps for the Philippines, played in all of Cardiff's league games this season except for a 2-1 defeat to Queens Park Rangers on New Years Day with Brian Murphy starting that day.
At the final whilst against Reading, the Cardiff goalkeeper joined in jubilant celebrations as yet another clean sheet ensured Cardiff won promotion back to the Premier League.
However it has been a long-time coming for Etheridge, who revealed he almost moved back to his native country earlier in his career after struggling to find work.
"I sold my house and sold my car and I was a week away from moving back to the Philippines," said Etheridge.
"I got offered a contract at Oldham in the December to sit on the bench, at that time I was living on my mate's sofa, then Charlton took me in the January transfer window.
"When you're an academy player I was sitting on the bench in the Europa League and Premier League and you don't think it's ever going to finish.
"I have massive respect for the manager here [Neil Warnock] for taking me on board and hopefully I have paid him and the supporters back."
'A result-based industry'
Etheridge praised manager Warnock, who was winning his record eighth promotion, on his philosophy and attitude.
The Sheffield-born manager divides opinion across the football world, but Etheridge praised his ability to get results.
"He [Neil Warnock] has brought in players who believe in the philosophy that he wants to install and its a winning way," said Etheridge.
"I think he would admit himself we don't always play the prettiest but we come out with results, and this is a result-based industry, which is why we have gone up to the Premier League."
The Philippine goalkeeper also praised the rest of the Cardiff squad, adding that he was confident months ago the would win promotion.
"In front of me the defence has been fantastic all season," he said. "The celebrations from the fans and ourselves after the game showed it's been a long season but we achieved what we wanted to do.
"When we come back for pre-season we will look forward to the Premier League but throughout this season we have taken things game by game and we will be doing exactly the same next season.
"We hit a sticky patch at the end of the year but in the new year when we beat Sunderland I could tell that this was a team that could get past the finish line."