Rangers: Chairman Dave King expects club to raise £6m in share issue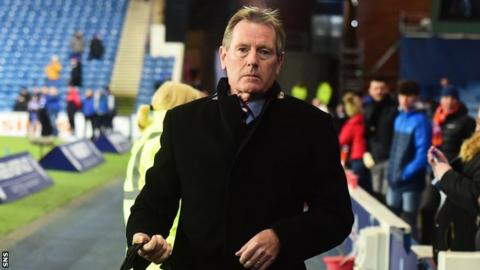 Rangers will launch a new share issue "immediately" that could raise £6m, according to chairman Dave King.
The South Africa-based businessman also said there was no imminent external revenue from new investors.
Rangers confirmed last week that former Liverpool captain Steven Gerrard will become their new manager on 1 June.
"We haven't decided, but at the moment I am thinking about £6m new cash in the balance converted to loans," King told PA Sport.
"I met with [company secretary] James Blair on Saturday and we have given the go-ahead for the share issue to commence immediately."
Rangers had received £17.7m in loans from shareholders and other investors by the turn of the year and subsequently borrowed a reported £3m in a short-term finance deal with bankers Close Brothers.
King says the share issue will mean loans are converted to equity as well as bringing in fresh finance.
"There will be a balance between the conversion of loans versus raising of new cash," he explained.
"At this stage there is nothing external other than existing shareholders and investors. We are not talking to anyone new, who is not there already."
Gerrard, 37, has not been given a figure of how much he will have to spend in his first transfer window as Rangers boss.
Five of the current squad are on loan until the end of the season, though Jamie Murphy is expected to formalise a move from Brighton and Hove Albion.
Kenny Miller is out of contract in the summer, as is David Bates, who has already agreed a pre-contract deal to join Hamburg.
"We have given the commitment that we will continue to invest in the squad and we will be a net investor," King said. "We will provide additional net funds.
"[Steven Gerrard] will sit down with [director of football] Mark [Allen] and determine that. We don't put figures on that because we can't.
"It depends on how many players Steven wants to keep. We haven't even discussed it. Right now we don't have a player plan."
Following a court ruling, King has to submit an £11m offer to buy out other shareholders, offering investors 20p per share for the share capital not already controlled by him and three partners.
And King said: "Two weeks ago the Takeover Panel said they were unhappy with the funds being held in South Africa and they would like them to be relocated to the UK to be held in a UK bank account in sterling.
"I said that would require an extension of the offer because I can't get the money into the UK, open a bank account and get the various KYC (know your customer) things you have to do with the banks to make the deadline, and they didn't grant the extension. So that is where we are now.
"I have gone back to them and I said I will take that under review. It makes no difference to the funding or ownership of the football club.
"I said, 'let's accept the Takeover Panel will not be resolved in the next couple of weeks, let's go ahead with the rights issue as it is with the restrictions I have in participating'."
And King says he will increase his personal investment in the club.
"I have to do that, I have already done that, in advance of next season," he said. "Because we continue to run at a deficit, deliberately, we have to satisfy the licensing authorities, the SFA, Uefa, that you have sufficient funds to fund your deficit.
"So we have had to give cash guarantees in advance of next season. So whether we raised money in a rights issue or not, we are in for the money, I am in for the money, I am underpinning the cash. The club is fully funded for next season."