Garth Crooks' Team of the Week: Hegazi, Noble, Kante, Zaha, Aubameyang

By Garth Crooks
Football analyst
Last updated on .From the section Premier League

Manchester City lifted the Premier League trophy after a 0-0 draw with Huddersfield that boosted the Terriers' survival hopes.
Elsewhere, Arsenal hammered Burnley 5-0 in Arsene Wenger's final home game in charge, and Olivier Giroud's goal gave Chelsea a 1-0 victory over Liverpool at Stamford Bridge.
Stoke were relegated on Saturday after a 2-1 defeat by Crystal Palace, West Brom are clinging on after a surprise 1-0 win over Spurs, while Southampton were denied three points by Everton's 96th-minute equaliser.
But who did enough to make my Team of the Week? Read my selections and then pick your own XI.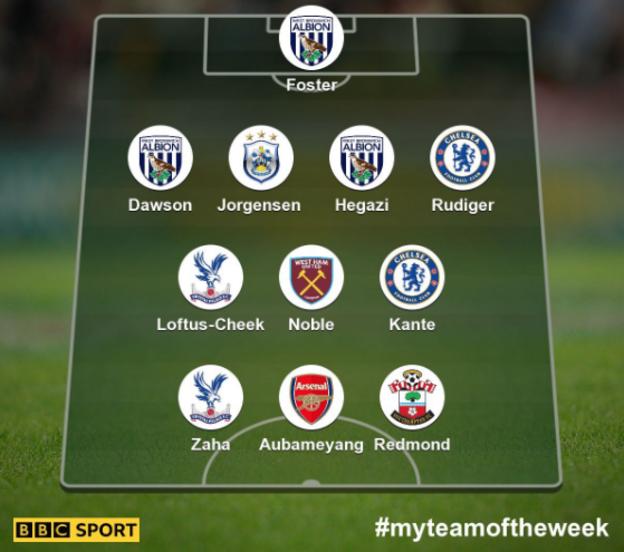 Goalkeeper - Ben Foster (West Brom)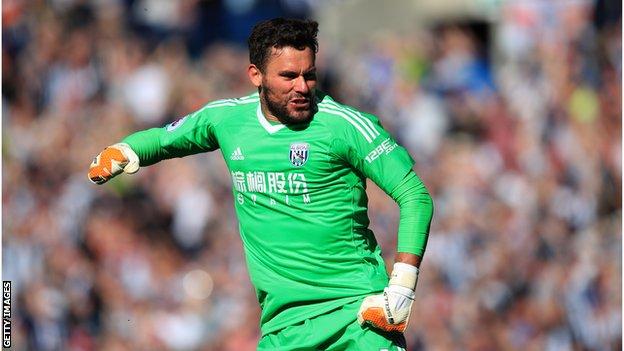 The way Ben Foster is playing at the moment he could make my Team of the Season.
The West Bromwich Albion player has been in blistering form under caretaker manager Darren Moore.
I don't think I have seen anything quite like this in the Premier League before. Both goalkeeper and manager seem to be performing miracles for the team at the same time. Foster looks unbeatable and Moore seems like the coolest man on the planet in such extraordinary circumstances.
If the impossible actually happens and Albion somehow remain in the Premier League, they will have to give Darren Moore not just the job but the freedom of the town.
Did you know? Foster made five saves against Spurs; only once has he made more in a single Premier League game this season (seven v Man City in January).
Defenders - Craig Dawson, Mathias Jorgensen, Ahmed Hegazi, Antonio Rudiger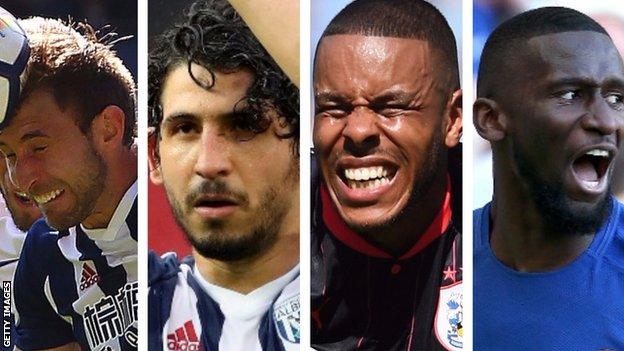 Craig Dawson: Regardless of whether West Brom stay in the Premier League, Craig Dawson must win their player of the season award.
He has been magnificent. If he's not putting his body on the line for his team he is in the opposition's penalty area looking to affect the game. It was Dawson who rose above everyone to get his head to the ball in the dying seconds against Spurs in a desperate attempt to score a goal.
The ensuing mayhem in Tottenham's goalmouth allowed Livermore to get the final touch and keep West Brom's hopes of staying in the division alive. If Southampton draw with Swansea on Tuesday I might have to find a blue and white scarf and head for Crystal Palace next Sunday!
Did you know? Dawson made 16 clearances against Spurs; no West Brom player has made more in any Premier League game this season.
Mathias Jorgensen: With two games left, Huddersfield look the most likely of those teams fighting for survival to remain in the Premier League after a hard-fought point at Manchester City of all places. The star of the show, and the biggest Terrier of all for me, was Jorgensen. The centre-back was immense. Huddersfield had to cope with the added pressure of playing the champions on the day they were about to pick up the trophy but that didn't seem to matter in the end.
Did you know? Only Chelsea midfielder N'Golo Kante (79) has made more interceptions in the Premier League this season than Jorgensen (74).
Ahmed Hegazi: I've played in relegation battles before and they are instant cures for constipation! Not only are your nerves shredded from the sheer anxiety that the slightest mistake could cost your team and the fans everything, as a consequence very little quality football is played at all. The defenders are under even more pressure - one mistake by them could spell disaster.
That is why I was so impressed with Ahmed Hegazi against Tottenham. He battled relentlessly and kept Harry Kane and Dele Alli at bay, which is no mean feat. The gods appear to be with West Brom at the moment - I bet they're Egyptian.
Did you know? Hegazi, who made more blocks than any other West Brom player against Spurs (two), has now blocked 35 shots in the Premier League this season, at least 11 more than any of his team-mates.
Antonio Rudiger: From the reaction of the Chelsea faithful during the match against Liverpool, I got the distinct impression Antonio Rudiger is fast becoming the darling of Stamford Bridge.
Every challenge he made was cheered and every tackle was applauded. There were even chants of "Rudi" around the ground.
Rudiger, after a difficult start, has had a superb season at Chelsea and been pivotal in their attempt to wrest a Champions League spot from Spurs. There is also something of the Ricardo Carvalho about the way he plays - and he wasn't bad either.
Did you know? Rudiger's 10 clearances against Liverpool was the highest such total by a Chelsea player at Stamford Bridge in a Premier League match in 2017-18. The last Blues player to make more in a Premier League game at home was Kurt Zouma v WBA in January 2016 (11).
Midfielders - Ruben Loftus-Cheek, Mark Noble, N'Golo Kante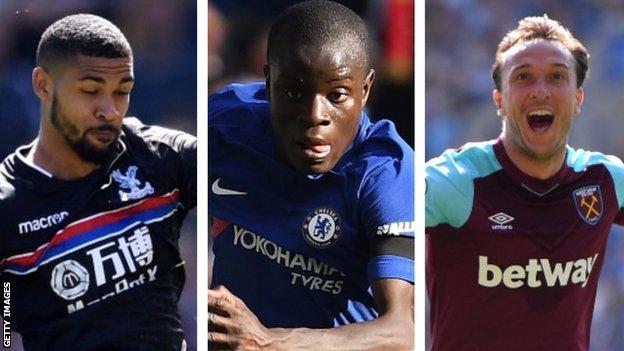 Ruben Loftus-Cheek: The first thing Roy Hodgson must do, above all else now Crystal Palace have secured their Premier League status, is sign Ruben Loftus-Cheek on a permanent basis.
Chelsea do not appear to have the time or inclination to develop this talent any more than they did Kevin de Bruyne or Mohamed Salah. The on-loan Chelsea midfielder didn't just rain on Stoke City's parade, he sunk it.
It was painful to watch. The Palace midfielder is looking more the perfect England replacement for the injured Alex Oxlade-Chamberlain with every game.
Did you know? Loftus-Cheek won more duels (14) and completed more dribbles (six) than any other player on the field during Crystal Palace's win over Stoke City.
Mark Noble: How can West Ham fans name Marko Arnautovic their player of the season? Surely it has to be Mark Noble.
In one of the most difficult seasons West Ham have had in the Premier League, it was Noble who assured the fans when they lost their heads that with their help all would be well. He has never shirked a game, a tackle or an interview, and against Leicester - when you needed a big man to match the occasion - it was 'Mr West Ham' who came to the rescue and won the points.
There is only one player of the season for me at West Ham and that is Mark Noble.
Did you know? As well as scoring from his only shot of the match against Leicester, Noble attempted the most (43) and completed the joint-most (34) number of passes of all West Ham players in the game.
N'Golo Kante: He has been so good at what he does I've almost run out of things to say about this player. N'Golo Kante was back to his masterful self against the Champions League finalists.
If there was an interception to be made, he made it. However, what I have noticed is the growth in confidence in his overall game. He seldom gives the ball away and his passes always get to where they are intended.
Kante has won two Premier League titles with two different clubs and I dare say if he moved to Manchester United or Liverpool, the title would move there too.
Did you know? The Frenchman made eight interceptions against Liverpool, the highest of any Chelsea player in a Premier League game this season, and his joint-second highest in a single Premier League game (behind only nine v Watford for Leicester in November 2015).
Forwards - Wilfried Zaha, Pierre-Emerick Aubameyang, Nathan Redmond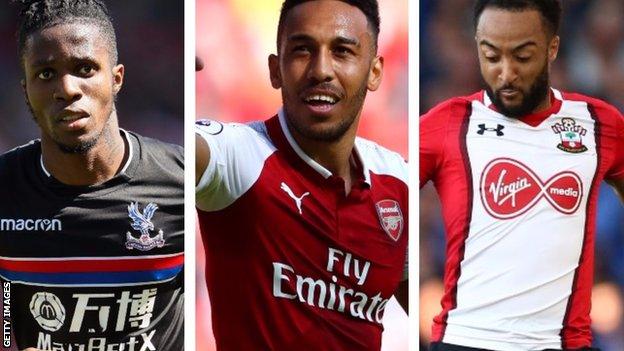 Wilfried Zaha: That was another sparkling performance by Zaha against a beleaguered Stoke City.
I had the honour of presenting the Ivory Coast international with the Best of Africa team award at a prestigious ceremony in London this week. I couldn't resist the opportunity to ask him would a club like Spurs interest him. A shocked Zaha went to great lengths to tell me how happy he was at Crystal Palace and how much he enjoyed working with Roy Hodgson. I think £70m should do it, and I would gladly drive him there myself.
The new Alfie Conn at White Hart Lane if ever I saw it. You can read why I think it's time for Zaha to move on in The Crooks of the Matter below.
Did you know? While Zaha created three chances against Stoke, the most of any Palace player, only Ruben Loftus-Cheek attempted (eight) and completed (six) more dribbles than Zaha in the match (five and four respectively).
Nathan Redmond: Why oh why didn't Nathan Redmond start against Everton? There was so much depending on this game and a team like Southampton needed pace and a goal, and Redmond had both in him.
Apart from not picking Redmond from the start, Mark Hughes seems to think that referees shouldn't have an opinion. I'm surprised I have to tell him this but their opinion is the only one that counts. Jon Moss might have given Everton the rub of the green on two occasions but if Maya Yoshida stays on the field and Ryan Bertrand doesn't keep the ball in play in the dying seconds, Southampton stay up.
As it stands, Hughes has already contributed to one team in red and white going down. Let's see if he can save another.
Did you know? Redmond's goal was his first in the Premier League this season with what was his 40th shot of this campaign.
Pierre-Emerick Aubameyang: I think it was fitting that Arsene Wenger's last signing as Arsenal manager should open and finish the celebrations in his last match at Emirates Stadium.
Pierre-Emerick Aubameyang scored two well-taken goals and is the sort of player that fits Wenger's criteria perfectly.
Not all of Wenger's signings have been completely successful or totally welcome. Who can forget the furore that accompanied Danny Welbeck's arrival?
However, Aubameyang is in a different class. A finisher in the Nicolas Anelka league. What a wonderful note to finish on.
Did you know? Aubameyang has scored seven league goals at the Emirates this term; the most of any Arsenal player in their first seven home appearances in the Premier League.
Pick your Team of the Week
Pick your Team of the Week
Pick your XI from our list and share with your friends.
The Crooks of the matter...
Crystal Palace fans are not going to like what I am about to say but I make no apology for making the argument. It's time Wilfried Zaha went to a big club.
I know I have gone on record in previous TOTWs and stated another season under Roy Hodgson would not hurt him, but he's not going to win anything at Palace. He might at Spurs, and he would at Arsenal.
Both clubs have a history of fans taking mercurial talent to their hearts. The first time I ever saw Alfie Conn play in front of the Shelf at White Hart Lane I felt their rapport. Similarly at Arsenal, when Charlie George took to the stage at Highbury, the famous North Bank fans applauded in expectation and the love between the two was palpable. Zaha provokes the same emotion.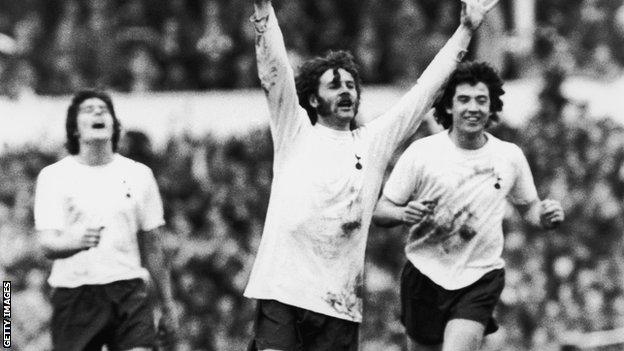 When he left for Manchester United in 2013 it was far too early for the Ivorian and the player hadn't come to terms with his prodigious talents. He was like a young King Arthur unable to control Excalibur. But now he is coming to terms with his abilities and ready to make the move to another London club.
I raised this issue with a Palace fan recently who was horrified at the suggestion but wasn't afraid to name his price. Every player has one, and at 25 we agreed Zaha's clock was ticking and £70m should do it.
Admittedly, the player doesn't score a lot of goals but he wreaks absolute pandemonium in the opposition's ranks.
Some Spurs fans will wonder why I have mentioned Arsenal at all. Well the Gunners have forged a link with Palace players over the years. I can remember Kenny Sansom and Peter Nicholas leaving Selhurst Park for that part of north London in the '80s, followed by Ian Wright a decade later. All had amazing careers at the club, and I can see Zaha having a similar effect, particularly now the Gunners have lost the services of Alexis Sanchez.
That said, Arsenal - with the imminent departure of Arsene Wenger - are in a state of flux and need reassembling.
Tottenham, on the other hand, lack a cutting edge, not to mention a winning mentality, and need to win something quickly. So does Zaha. They have a new stadium to fill and require a new Alfie Conn to entertain them.
I think Zaha's the man.