VAR in Premier League is inevitable, says Richard Scudamore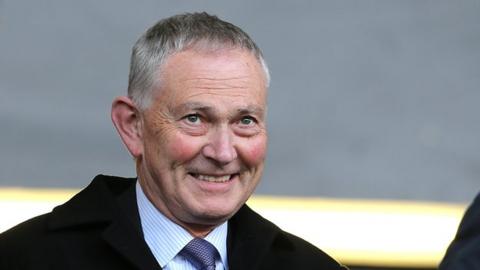 It is "inevitable" that the video assistant referee (VAR) system will be introduced to the Premier League, says executive chairman Richard Scudamore.
Premier League clubs have voted not to use VAR next season, instead agreeing to continue testing it during 2018-19.
Scudamore told BBC Radio 5 live: "The technology has worked and the officials have generally done very well with it.
"It's inevitable that [VAR] is going to come in, a lot of things will have to go backwards for it not to happen."
The new technology was used in FA Cup and League Cup matches this season.
Scudamore described the decision by top clubs not to implement VAR in the Premier League next season as "a compliment to our referees".
He said: "They [the clubs] weren't that unhappy with our current standard of refereeing that they needed to desperately take that leap too soon."
Technical problems and delays caused some discontent when the system was used in this season's FA Cup, notably in Manchester United's fifth-round victory over Huddersfield, when a "squiggly line" graphic of Juan Mata's disallowed goal was shown to broadcasters.
However, Premier League officials are still keen for the video technology to be implemented in both the FA Cup and the League Cup next term.
"Understandably, and like all things in football, the one or two occasions when it could have been used better are the ones we remember," Scudamore said.
"Those are also the ones that influenced the clubs' decision to say 'not the start of next [Premier League] season', so we want to spend next season getting better, getting quicker and more reliable."
Germany and Italy introduced VAR across their top divisions this season.
However, in the Bundesliga, technical problems led to 47% of players wanting to abolish the system, according to a survey published in Kicker magazine in January.
Technical issues prevented the system being used to help decide the controversial winning goal in Australia's A-League grand final on Sunday.
David Elleray, technical director of the International Football Association Board's (Ifab) and a former Premier League referee, said 40 countries were using, trialling or interested in VAR.
VAR will also be used at this summer's World Cup in Russia.