Brendan Rodgers says 'ultra-professional' Steven Gerrard will embrace Rangers challenge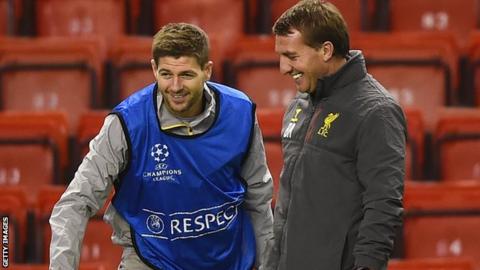 Celtic boss Brendan Rodgers is looking forward to locking horns with "ultra-professional" Steven Gerrard at Rangers next season.
Gerrard will become the manager at Ibrox this summer, having signed a four-year deal.
The former England captain's 17-year Liverpool career included three seasons working under Rodgers.
"He had incredible quality as a player and that level of professionalism is what made him great," said Rodgers.
"I'm sure he will take those attributes into his management.
"I haven't spoken to him, I left him be when I saw he was linked with it, he will obviously have his own thoughts on it.
"But I am delighted for him because he has obviously had an incredible playing career, wanted to manage, wanted to coach and now he gets the opportunity to do that."
Gerrard, 37, will take his first steps in management at Ibrox, having been a youth coach at Anfield since his retirement from playing in 2016.
"He will have an idea in relation of how he wants to work," said Rodgers.
"Only over time will you see the identity of his team and how they want to work and how they want to play.
"[Lack of experience] doesn't really matter. It's what you feel like. Whether you ready are not? Stevie has had great experiences as a player.
"In his time he has lived with that expectation. Of course it's totally different in relation to management and especially up here with such a rivalry [between the Glasgow clubs].
"When you work with big clubs you have to handle that pressure. He will embrace it.
"He could have gone into another job with a bit less pressure but he's taken on a role that he feels he's got enough assurances to make it work and my job is to try to make sure it doesn't."
'Welcome to the land of no sleep'
Rodgers joined Celtic in the summer of 2016, leading the club to an unprecedented unbeaten domestic clean sweep.
This season, Celtic are on the brink of back-to-back trebles, with Motherwell their Scottish Cup final opponents at the end of May.
Rodgers, who is unbeaten in 11 contests with Rangers, winning nine, had experience with Watford, Reading and Swansea before his move to Liverpool in 2012.
"I always say when I welcome new managers into the the job it's welcome to the land of no sleep," he said.
"It's a totally different experience and you only get that through doing it. There is a curve of experience that you need to go through.
"I certainly know where I am now. I started at 35 and I'm 45 now. Ten years later, over 400-odd games later, I'm a much better manager than when I started."