Sam Allardyce: Everton boss says players have won 'hearts and minds' of fans
Last updated on .From the section Everton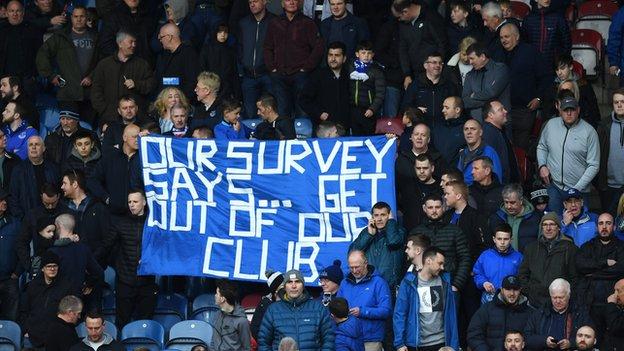 Everton manager Sam Allardyce says his side are winning over the club's fans despite ongoing unrest among some over their style of play.
"It's an entertainment game, you're trying to capture hearts and minds, and I think, particularly from a home point of view, we've achieved that," he said.
Everton are eighth in the table having been 13th when Allardyce took over.
The 63-year-old believes the team have won fans over "not just with the results but the way we've played and the way we've beaten teams".
Everton have won nine of 22 league games since Allardyce took over on an 18-month deal at the end of November.
They face relegation-threatened Southampton at Goodison Park on Saturday and Allardyce added: "We've obviously got room for improvement and hopefully that will be a big performance and another win."
Despite his upbeat assessment, Allardyce has been facing a wave of ill feeling from some fans that shows no signs of abating, having also been on the receiving end of fierce criticism in games at Burnley and Swansea.
At Huddersfield, several registered their disapproval by unfurling a large banner reading "Our Survey Says Get Out Of Our Club" in reference to the recent fans' panel survey that asked supporters to rate Allardyce's performance out of 10.
Speaking after that match, Allardyce said: "I can't honestly produce any more than I'm doing.
"I'm sorry some fans don't like it but we are trying as hard as we can, myself, my staff and the players.
"We have got 14 points from our last seven games. I can only say it is just one of those things and if we keep winning it might change to love."