West Ham: Andy Carroll in squad after fine for David Moyes row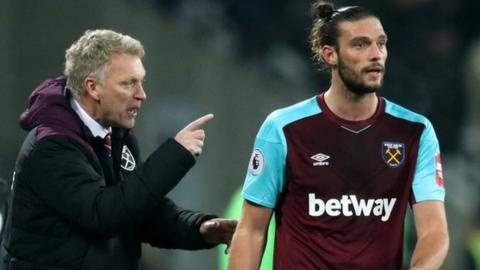 West Ham striker Andy Carroll is in the squad for Saturday's crucial match at Leicester despite being fined after an argument with manager David Moyes.
Carroll, 29, was sent home from training on Monday after a heated exchange, but later apologised.
He was unhappy not to play in the 4-1 defeat by Manchester City, and left the bench before the end of Sunday's game after being an unused substitute.
"We've moved on, we're quite happy now it's done and dusted," Moyes said.
"I was really disappointed in Andy - I don't believe there was any excuse for what he did.
"He's been fined but he has apologised, both to me and the players, and I think he understands it was wrong.
"He was in the squad last week, that's why he was on the bench. He will be in the squad this weekend as well."
West Ham remain in a precarious position in the Premier League, just three points above the relegation zone, following successive 4-1 defeats by Arsenal and Manchester City.
The Hammers are without a win from their last four games, and travel to Leicester before matches against Moyes' former clubs, Manchester United and Everton, at the London Stadium.
"We have got three games to win," Moyes said. "If we can win all three of those games then we might find ourselves quite high up the table so that is what we are going to try to do."