Jamie Maclaren: Striker eyes World Cup place & return to Hibernian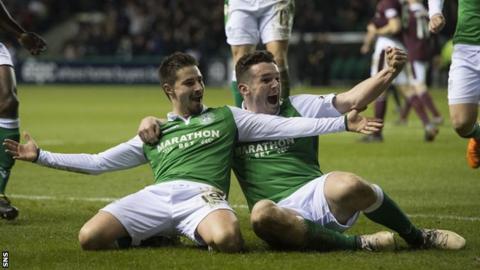 Jamie Maclaren says he would like to return to Hibernian next season, but admits parent club Darmstadt 98 are likely to decide his fate.
The Australian striker, 24, has scored five goals in 12 appearances since joining Hibs on loan in January.
He has two years left on a three-year deal with Darmstadt, who are fighting to stay in Germany's second tier.
"I'd like to [come back] but it's really out of my control; it's out of Hibs' control as well," Maclaren said.
"All I can do is focus on these next three games: head down, do what I can in front of goal, and just win games.
"There have been discussions but until they stay up or are relegated, you take it week by week."
Should Darmstadt, who dropped from the top-flight Bundesliga last term, suffer back-to-back demotions, Maclaren's chances of returning to Easter Road would improve.
"I signed a three-year deal there with a view of not to get relegated to the third league of German football," he said.
"It could come down to a situation where the money or the fee comes lower. But I've still got an apartment there, everything I own there, and two years left. I don't really think about what's happening there because I can't control what they do on the weekend.
"If I'm honest, it would be more of a case of them working out a figure they want if they do stay up because they own me - it's as simple as that. If they get relegated, it becomes a case of a few discussions.
"It's not just me in that position. They've just come straight from the Bundesliga, so there's a squad of 26-27 pros that make a good living. For them, they'll be seeing me doing well at Hibs and thinking if they can stay up they can maybe make some money, but that's really out of my control, I'll let my agent deal with that."
Maclaren moved to Edinburgh in part to secure regular game-time and propel his bid to win selection for Australia's World Cup campaign in Russia.
Neil Lennon's side are unbeaten in 11 matches and are vying with Aberdeen and Rangers for second place in the Scottish Premiership, both of whom they face in the final three rounds of fixtures.
Hibs sit fourth, level on points with the third-placed Gers, and three shy of Aberdeen, with a trip to Pittodrie beckoning on Saturday.
"I wasn't happy in Germany but things externally were quite good - financially and things like that," Maclaren added. "But you realise it's not just about that - it's about making sure you're playing, being in the right position.
"If I did stay in Germany, I don't think I'd be a shout for the World Cup place. But right now I'm putting my case forward, a few goals, playing regularly, so my case is quite strong and like I said I'm happy-as here, and whatever happens in the future is out of my hands.
"I want to concentrate on what's happening here because I'd rather finish second than worry about what's going on there. Teams like Aberdeen and Rangers are massive clubs, but if we get second, it's a massive achievement and it's doable.
"There's been some fantastic footballers that never even made a World Cup. It's a dream. I used to get up at 3am in the morning in Australia to watch them play.
"To actually be in that position where you might get selected - I was a part of the World Cup squad that qualified, so I like to think I've been on that journey and you just want to keep that journey."