Christophe Berra sees positives of Murrayfield bid to host Scotland games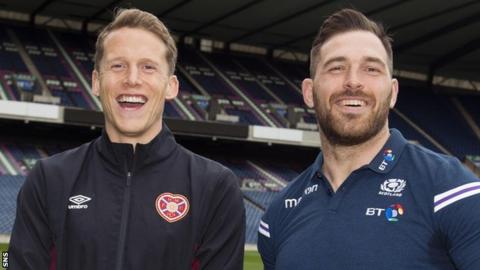 Hearts captain Christophe Berra says it would be "positive" for the national team should the Scottish FA decide to move international fixtures from Hampden Park in Glasgow to Edinburgh's BT Murrayfield.
The current contract between the SFA and Hampden Park Limited to hold international fixtures at the 51,000-capacity ground in Glasgow ends in just over two years' time and the governing body is considering a bid by Scottish Rugby to host Scotland football internationals at Murrayfield.
And Scotland defender Berra believes there is also a case for taking some internationals to smaller grounds around the country.
"The stadium in general both inside and out has top class facilities and I think it would be a positive thing for Scottish football and Scottish rugby to use the one facility," Berra said of the 67,000-seater Murrayfield, which hosts Scotland and Edinburgh rugby matches.
"It's a massive stadium. It's double tiered as well and that makes a difference. I have been here for rugby with a full house and it's a great atmosphere."
Earlier this season Hearts played four of their 'home' Scottish Premiership fixtures at Murrayfield while work was being completed on the new main stand at Tynecastle. Hearts won one of those games, drew one and lost the other two.
"My experience here, obviously the results with Hearts were a bit of a mixed bag," said Berra, 33.
"It's obviously not as good [an atmosphere] when it's not full but I've said this about Hampden. When international games are against smaller nations or friendlies, Hampden only gets 30,000. From a player's perspective we would rather play at Easter Road or Tynecastle or Pittodrie where it would be a full house with a better atmosphere."
Former Scotland rugby player Sean Lamont has backed Scottish Rugby's case. The 37-year-old retired from rugby last year with 105 caps to his name and says just walking out on to the pitch should inspire Scotland's footballers to perform at their very best.
"The atmosphere in here when it's full, a night game, the lights go out, the flames, the piper - it is second to none," said Lamont.
"You definitely notice the crowd when they get up in full voice. When you run out and it's dark it's really atmospheric and even when you are playing you get goose bumps. When you get in a stadium like this with the crowd singing it's great and it's definitely home advantage."
Around 100 fans were allowed into Murrayfield on Thursday to have a look at the facilities and experience what it may be like for fans at football matches.
Heather, a Hearts fan from Edinburgh and a member of the Tartan Army, had already experienced what the stadium can offer the football fan having watched her team play there earlier this season.
"I love it," she said. "I was here at the start of this season and I actually enjoyed it. I like this stadium. It's easier to get to and I think it's nicer inside than Hampden.
"I have been to Hampden when it's full and the atmosphere is amazing but I've watched what it's like here at Murrayfield with a capacity crowd and it just blows my mind."
On the other hand, Scotland fan Findlay is also a Tartan Army member and says Scottish football should have its own home even if is away from Hampden.
"This is the home of rugby and I cannot see it changing," he said. "Scotland has two stadiums. One for football and one for rugby and I have grave doubts if the attitude will change and I think that is a major problem.
"A better solution for me is something in the centre of Scotland where there is easy access for everyone and a new stadium would be the best thing for me. Much better than using a stadium that is the home of rugby and feel that every time you come here."