Trouble between Middlesbrough and Millwall fans to be investigated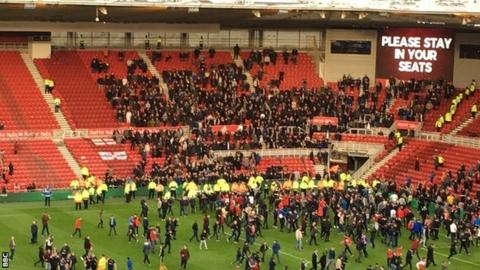 Middlesbrough have been asked by the Football Association to investigate disturbances in the aftermath of Saturday's 2-0 victory over Millwall.
Boro fans invaded the pitch and ran to the away end at full-time, with both sets of supporters throwing missiles.
More barriers must now be installed at the Riverside to stop repeat incidents.
"We are working to identify those fans that entered the playing area intending on provoking visiting supporters," a statement from Boro said.
Stewards and police were required to keep rival fans apart following the game, in which Middlesbrough confirmed their Championship play-off place.
"That type of behaviour is not acceptable," the statement continued. "Using our extensive CCTV footage, we are working to identify those people with the aim of bringing them to justice.
"We are awaiting the response of the FA before establishing the full range of measures that we will have to implement but it is clear that any repeat of the incident at the Millwall game could have serious consequences.
"We are requesting the cooperation and assistance of all genuine Boro supporters to prevent the type of behaviour that can damage the club's reputation."