Carlos Carvalhal denies Swansea City are too defensive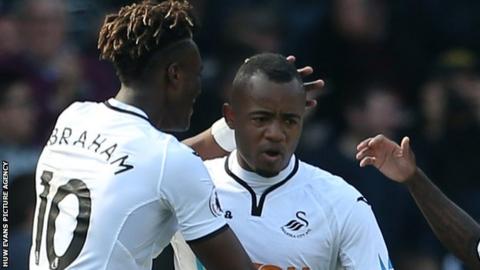 Carlos Carvalhal has dismissed concerns that Swansea City are too defensive.
The relegation-threatened Swans are winless in six Premier League games, scoring just two goals in the process.
Manager Carvalhal believes they have struggled because of the calibre of recent opponents but insists they want to play positively.
"If we go to Manchester United, Manchester City, Chelsea and so on and we play our football, we try because it's our way," Carvalhal said.
"But in these games you saw they had more of the ball. Why? We want it, we try but they have extra quality. We must defend.
"In that moment we must defend more than we attack, but if you ask me if this is our intention to play like that, it's not."
Former England midfielder Jermaine Jenas is among those to have expressed their concerns about Swansea's lack of goals.
The Welsh side have found the net 27 times in the Premier League this season, the joint-lowest total along with Huddersfield Town, who are one place above them in the table.
A run of three draws and three defeats has left the Swans just one point above the relegation zone with three games left.
But with games against Bournemouth, Southampton and Stoke City to finish the campaign, Carvalhal denies his team have been too cautious.
"There are some differences between the teams like Manchester United, City, Chelsea compared with the other teams [near Swansea in the table]," he said.
"So the problem is we played these teams in a row in a few weeks and we are playing more games away.
"So these two things make people have an opinion which is not correct, in my opinion."
Fate 'in own hands'
Swansea captain Federico Fernandez will be fit for Saturday's trip to Bournemouth after missing last weekend's defeat by Chelsea with a knee injury.
Bournemouth, who are 12th in the table, might have little to play for having already virtually guaranteed their Premier League survival - but Carvalhal is wary of the threat they will pose.
"In theory the calendar is positive but in the practice we must play games," the Portuguese added.
"We never know if the easy game is difficult because I don't believe in easy games in the Premier League.
"But we have things in our hands, this is most important."