Cardiff City: Ex-owner Sam Hammam praises Vincent Tan for 'learning lessons'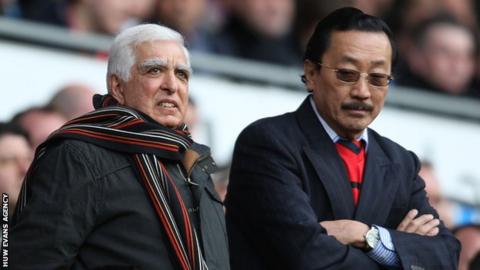 Former owner Sam Hammam says Vincent Tan and Cardiff City's board will have learned from their mistakes.
The Bluebirds go into Sunday's season finale against Reading knowing a win would secure them automatic promotion to the Premier League.
Tan has admitted he regrets some of his more expensive signings when Cardiff were last in the top flight in 2013-14.
"I get the impression that the Vincent Tan model 2018 is different," Hammam told BBC Sport Wales.
"It is different to the model that was there in 2013.
"I believe he is more experienced and has learned the lesson."
Lebanese-born businessman Hammam owned Cardiff City from 2000-2006, but left with the club owing a sum in excess of £15m to Swiss-based Langston Corporation.
Malaysian businessman Tan took over in 2010 and was able to reach "an amicable resolution" to the debt issue in 2013, which included Hammam becoming life president at the Welsh club.
Hammam added that he believes the evolution of the Cardiff board has helped them on the field.
"Tan is a different man than he was back in 2010 and 2013, he's more experienced, he is batting more steady, his feet are more on the ground," he told BBC Sport Wales.
"His input and support and direction must have had an important effect on [manager] Neil Warnock and the success of the club.
"Also the fans, albeit really due to Neil Warnock, everybody's pulling in the same direction. The fans, the team and the management, the club and the media, everybody's pulling together and this is making a very big advantage to us."
Mistakes in expensive signings
Hammam agrees with Tan who said when Cardiff City reached the Premier League in 2013 they made the mistake of signing big-fee players, such as Andreas Cornelius, Gary Medel and Steven Caulker.
"I phoned him (Tan) and I told him we have no business to be paying this sort of money to buy players, we have no business to be paying these sort of wages," Hammam explained.
But he said the Vincent Tan of 2018 is a different model to 2013.
"I genuinely believe he is more experienced and has learned the lesson," Hammam added.
Warnock the key to success
Warnock was appointed manager in October 2016 and earlier this year signed a new deal to remain with the club until 2020.
Should Cardiff City win on Sunday, it will be a record eighth promotion for Warnock during his managerial career.
Hammam said the 69-year-old was one of the "key catalysts" to the club's success this season, describing him as an "outstanding manager".
"He is my kind of man, I really like his style," Hammam said.
"With relatively less money he has put us in a position where we may hopefully get automatic promotion.
"He's got what it takes on all fronts. He knows which players to buy, which players to keep, which players to let go and how to motivate the team.
"He also knows how to pick the team and has proved time and time again that he can make the changes on the pitch during the game... most of the times he got it right."
Hammam added that he believes Warnock will look for value signings even if the Bluebirds are promoted, with estimates that reaching the Premier League net a club in excess of £100m.
He said Cardiff did not have the money for "fancy managers from abroad" or to pay the "massive wages" of big-name footballers who play "pretty football".
Instead Hammam believes they should rely on young players who are reserves with teams such as Manchester City or "very able" players from the lower divisions.
"I can name you 20 players off-hand," he said, "but I'm not qualified to do that."
Instead Hammam said they must rely on the scouting system and Warnock's ability to identify these players.
"He (Warnock) isn't the type that wants those fancy players who can flick the ball from behind their back and then balance it on their you know what.
"He wants somebody who is tough, who can get stuck in, but also who has the quality and the heart."