Champions League final: What can Liverpool and Real Madrid fans expect in Kiev?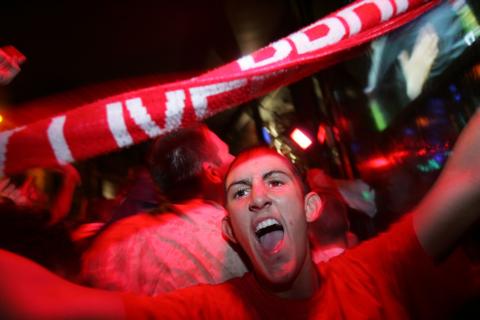 Themed flowerbeds, luggageless flights and 3,000 national guard troops, all overseen by a former heavyweight boxing champion - that's what Liverpool and Real Madrid can expect when they meet in the Champions League final at Kiev's Olympic Stadium on 26 May.
The stadium - National Sport Complex Olympiyskiy, to give it its full title - takes it name from the fact that it hosted some of the football matches in the 1980 Moscow Olympics. It has around 70,050 seats, although the capacity will be reduced to 63,000 for the final.
Both clubs have been given a quota of around 16,500 tickets, so at least 33,000 Reds and Madridistas will be travelling to the Ukraine capital - not to mention fans of Wolfsburg and Lyon for the Women's Champions League final two days before, to be played at the smaller Dynamo Stadium.
Kiev's mayor Vitali Klitschko - three-time heavyweight champion of the world - has said he expects up to 100,000 foreign tourists over that weekend.
"For the period of the Champions League final and the Women's Champions League final, besides police forces from Kiev and other regions, about 3,000 national guard soldiers will be involved in the protection of public order," said Ukraine's deputy interior minister Serhiy Yarovyi.
What about flights and accommodation?
The city's Borispol airport anticipates an extra 100 aircraft over the weekend and, counter-intuitively, it will close one of its two runways to cope with the demand - this will allow the other runway to be used as a waiting zone for the planes.
On some of these flights, luggage is expected to be banned in order to speed up the disembarking process.
In the days before the final, prices for renting and booking hotels in Kiev are expected to increase tenfold.
Airbnb's private apartment rental system shows that 98% percent of accommodation has already been booked with the rest at a rate of £368 per dwelling per day.
It's the same situation on booking.com, where prices for hotel rooms start at £368 a night.
What is there to see and do?
Meanwhile, four fan zones are planned in Kiev.
The official fan zone, called 'village of the champions', is located on the central Khreshchatyk street. It will host a fan festival and include a mini football ground, at which an all-star game between friends of mayor Klitschko and legendary Ukrainian striker Andriy Shevchenko will take place.
There will also be a one-day fan zone on Kontraktova Square, with two more fan zones in Shevchenko Park - named after 19th-century poet Taras Shevchenko, not the former AC Milan and Chelsea forward.
Each district of the capital plans to have themed flowerbeds and art installations. There will also be a 35-metre inflatable mock-up of the Champions League trophy.
The Olympic Stadium has also been upgraded, with modernised turnstiles, internal systems, information and fire signs, CCTV cameras, speakers and spotlights, as well as a dedicated press area.
What about tickets?
Tickets for the final cost between 70 and 450 euros (£61 and £396), although some seats are cheaper as they have a restricted view.
Initial applications were made on Uefa's website from 16-22 March, right after the quarter-final draw had been made and there were eight potential participants in the final.
Tickets for the women's final are substantially cheaper - 70 to 100 Ukrainian hryvnia, which works out at £2-£2.80.