Champions League final: Liverpool given 16,626 tickets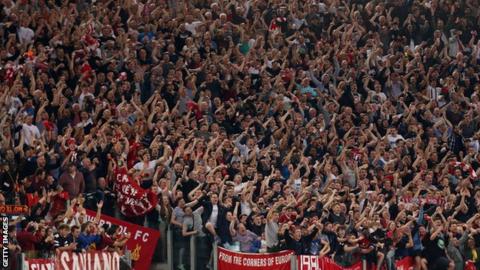 Liverpool and Real Madrid will receive an allocation of 16,626 tickets each for the Champions League final in Kiev on 26 May.
With the 70,050 capacity of the Olympic Stadium reduced to 63,000 for the match, the 33,252 tickets given to the finalists, plus 6,700 available to worldwide supporters, will make up 63% of the attendance.
The rest will consist of hospitality members, rights holders, commercial partners, officials, players past and present and media.
Tickets will be split into four price categories, with the most expensive costing £394, or £315 with a restricted view.
The cheapest, category four tickets, are £61, or £48 with a restricted view.
Some 16% of Liverpool's allocation are in the least costly category, with about 2,660 available at that price.
There are about 8,479 available in category three (£140 or £109) and 4,489 in category two (£280 or £223).
The category one allocation will be about 998 tickets.
Liverpool reached the final with a 7-6 aggregate victory over Roma in the semi-finals.