Liverpool fans' views of Roma trip in Champions League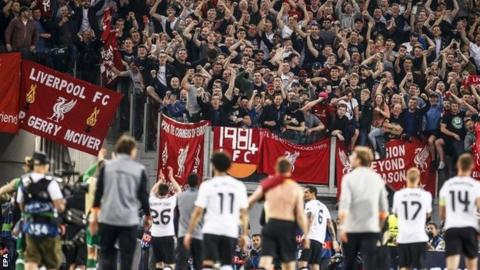 Liverpool are through to the Champions League final against Real Madrid after a thrilling night in Rome - and happily there have been no reports of trouble before or during the game.
There had been concerns for safety after Liverpool fan Sean Cox was attacked by Roma supporters before the first leg.
But a strong police presence seemed to prevent trouble in Rome, as Liverpool went through 7-6 on aggregate - despite losing the second leg 4-2.
Fans were told not to walk to the game, with police-escorted coaches to the ground provided, and they were kept in the Stadio Olimpico for hours after the final whistle to avoid the threat of violence.
BBC Sport spoke to some of the 5,000 Liverpool fans in the ground to see how their evening went...
Paul Machin
"It was far more subdued throughout the day in Rome than it has been on other away days. It wasn't like in Porto when the football match was the main event in the city. There were small groups of fans littered around singing songs, gathering together and putting up banners, but most people kept to themselves.
"They listened to the advice and that obviously had a bit of an impact but in a way it was nice when we eventually got to the stadium because every traveller had their own stories to tell of their trips to Rome and what they had seen.
"Walking around Rome was fine as it's a multi-cultural city and a very welcoming place. The organisation was good to a point too but when we got to the stadium there were delays and a few disruptions. It was as if they weren't prepared for the sheer volume of Liverpool supporters arriving - but they should have been. It could have dampened the spirits a bit but luckily it didn't.
"I've never seen the type of celebrations that we had here at full-time. It felt like a bit of an inevitability when we were on top in the first half but because we were forced to fight for it until the end, the relief that erupted was unreal. The celebrations were just heightened.
"I have been travelling with Liverpool for over eight years now and we just haven't really been the club we were when I was growing up. It hasn't been the team my dad knew or my grandfather knew. But I feel like we are getting back to the Liverpool I know and love now."
Neil Atkinson
"It was a terrific night. It was a matter of hanging on a bit even though the penalty was late, but the way those young men celebrated with us after winning the game for Liverpool was brilliant.
"The pinnacle of football should be the hardest night of your lives and to defend any lead at the Stadio Olimpico is hard to achieve. So Liverpool can keep making it difficult for themselves because it is difficult and that's why it's worth achieving it. The place to be will be Kiev that night [for the final] and I'll be going.
"No idea how long we will be kept in the ground tonight - they don't tell you those things but I've got a flight at 03:30 so hopefully soon."
Josh Sexton
"The party is slowly starting to die down now. My voice is wrecked from singing all night.
"Liverpool have just got to play their football in the final. We want to play against the best teams in Europe, and Real Madrid are exactly that. We need to get into a rhythm and I'm convinced we can beat anyone on the planet. I'm fairly sure I'll be in Kiev on that night."