Rising from ruins - can Newry complete their remarkable comeback?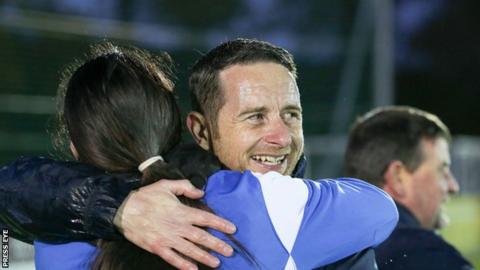 Danske Bank Irish Premiership play-off 1st leg
Date: Friday 4 May Venue: Newry Showgrounds Kick-off: 19:45 BST
Coverage: Latest score, match report and video highlights on BBC Sport website
Newry City's 2012-13 season was considerably shorter than expected.
What started in late August ended just a month later when the club's IFA membership was terminated following a High Court winding-up order.
Less than five years later Newry City AFC, the club which rose from the ashes of its ill-fated predecessor, are just two games away from top flight status.
Having secured three promotions in the last four seasons, are Newry City ready to write the final chapter of a remarkable resurrection story?
In 2012 the club were ordered to pay £25,000 in damages to former manager Gerry Flynn, who claimed unfair dismissal and breach of contract after he was relieved of his duties the previous year.
When no payment was forthcoming Flynn instructed his lawyers to issue winding-up proceedings against Newry City FC Ltd, the company that owned the football club.
Sources close to Flynn stressed that his petition was an attempt to resolve the issue rather than seeking the club's closure.
The petition was granted leading to the liquidation of the company, and shortly thereafter the club's IFA membership was terminated.
Back from oblivion
For local boy Darren Mullen, Newry City could not be allowed to die.
Having joined the youth coaching staff several years earlier, Mullen had worked as assistant manager under former Manchester United defender Pat McGibbon.
Following McGibbon's departure in 2012, Mullen became manager in an interim capacity and had successfully applied for the role on a permanent basis just as the court order was issued.
"I had been deemed worthy to take on the manager's role," recalls 46-year-old Mullen, a building control surveyor with the local council.
"I was determined to get the side up and running again. We had been decimated and it seemed like there was a long road ahead."
Mullen oversaw the formation of Newry City AFC.
The club play in the same colours and at the same stadium as Newry City FC did, but do not have any legal connection to the former club.
"Darren's role cannot be underestimated. He would never say this himself, but he has been the driving force, a key figure," explains Gareth McCullough, sports editor of the Newry Reporter.
Having foregone the opportunity to immediately enter the Mid-Ulster League Mullen, alongside coaches Jervis McCaul, Raymond Byrne and Mickey Keenan, set about rebuilding the club from the bottom up.
Leaving on-field matters until the following season, the coaches focused their efforts on introducing a new constitution, securing a deal to lessen monthly rates and assembling an entirely new squad.
A club within a community
With the old squad having moved on to pastures new, the team was assembled from a mixture of players from Newry City's former youth ranks and the best of talent from the local Carnbane League, where Mullen had spent the majority of his playing career.
The first player to sign for Newry City AFC was Chris McMahon. He now wears the captain's armband and is one of four players to have played in every season since the club re-entered the Irish League.
"The club now operates with a huge focus on local involvement. There is a lot of emphasis placed on it being a community-based team," says McCullough.
"Essentially the entire team comes from the Newry, Mourne and South Armagh area. As a result there is a big interest from the local community."
Indeed the club do appear to be reaping the rewards of their community efforts, as their home attendance regularly betters that of Premiership neighbours Warrenpoint.
Climbing the pyramid
Life began again for Newry City in Mid-Ulster League Intermediate B, the fifth tier of the Irish League.
"We gave ourselves three years to get out of the Mid Ulster League" says Mullen, who oversaw two promotions in the first three seasons.
A 7-2 play-off victory against Armagh City at the end of the 2016/17 season saw the side complete their third promotion in four years and gain entrance into the Championship.
Life in the second tier had a rocky start as Newry registered just one win in their first seven encounters.
Newry soon found their feet though and just one loss came in their next 19 league outings, catapulting Mullen's men to the business end of the table.
Carrick calling
Newry's prize for a second-place finish is a two-legged Premiership play-off against Carrick Rangers.
The last time a Championship team won the play-off was Warrenpoint in 2013.
Five players from that side - John Boyle, Keith Johnston, Darren King, Mark Hughes and Stephen Hughes - are now with Newry.
"Carrick will come in as favourites but it's a challenge I feel we are up to," says manager Mullen.
A far cry from five years ago, could the rise of Newry City AFC reach a lofty new height this week?