Dunstable Town: Boss raises money for squad who played for free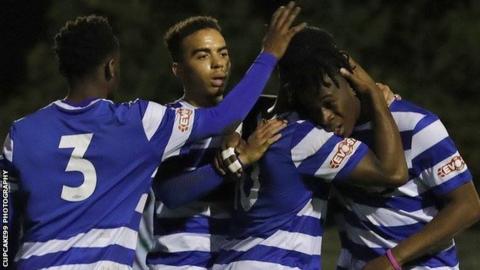 A non-league manager is raising money for his squad, who played for an entire season for free in an otherwise semi-professional league.
Southern League Premier Division side Dunstable Town have had no playing budget because of financial problems.
They were relegated on Saturday but boss Tony McCool is crowdfunding for his players to reward their loyalty.
"Quite simply the club was nearly defunct, it was on its knees and was nearly going to disappear," he said.
"Fans kept the club going but all the players had left. We don't own our stadium, but just had this league status and a brand."
After holding open trials, a core squad of 21 was formed, with players covering their own petrol costs to get to games and getting no expenses.
They were the only team not to pay players in the seventh tier, where they played teams such as Hereford, Kettering and Basingstoke.
"When we started training we didn't even have a football, so I had to bring some out of my back garden," McCool told BBC Three Counties.
"We knew of at least six of our players who were offered money, reasonable money, to play elsewhere. It's hard to turn down from anyone but they said no because they'd made a commitment to me.
"When we got to the end of the season and I saw the players on their hands and knees, in tears and distraught, I thought the very least we can do is to give them a bonus.
"We had some tough beatings, which was expected, but we stuck together and it takes nothing away from the fact we kept the club afloat."
'I never chose to play because of money'
McCool started the crowdfunding page on Friday and is hoping to raise £2,100 - £100 per player - for his squad, who won four of their 46 league games and conceded 137 goals in the process.
Dunstable striker Arel Amu is one of those to have played for nothing, and says he turned down offers to move to rival clubs for money.
"They're asking about you and saying 'by the way, we can pay you this, we can give you that,'" he said.
"But I'm a loyal person - I never chose to play for Dunstable because of money in the first place."