Oxford United: Karl Robinson says Ryan Ledson 'can be replaced' amid Preston interest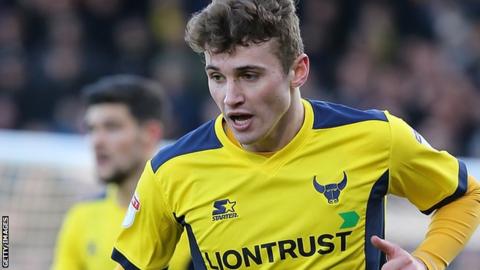 Oxford United manager Karl Robinson says midfielder Ryan Ledson "can be replaced" as Preston appear to have renewed their interest in him.
Robinson confirmed Ledson will also sit out the season-ending fixture at promoted Blackburn on Saturday.
"It's a decision that's gone through the football club in the right way," he told BBC Radio Oxford.
"There's a high possibility a move could happen, but you can never be 100% sure that it's going to be the case."
Ledson has made 49 appearances in all competitions this season for the U's and has been a linked with a move to Preston.
Oxford announced this week that eight players will be released at the end of their contracts, as well as some loanees returning to their parent clubs.
"This is a rebuilding process," Robinson said. "Trust me, I know what I'm doing and if people have ambitions elsewhere, they're better going elsewhere.
"A 100%-motivated Ryan Ledson, who wants to be at this club, is irreplaceable. A 60%-motivated Ryan Ledson at this club is replaceable.
"This isn't Ryan's fault. He's a diamond, I think the world of him, but there's a lot of footballers out there. People move on and people move in. We will replace him."