Rochdale: 'Spanish Dale' to come to final game after fans raise money for his visit
Last updated on .From the section Rochdale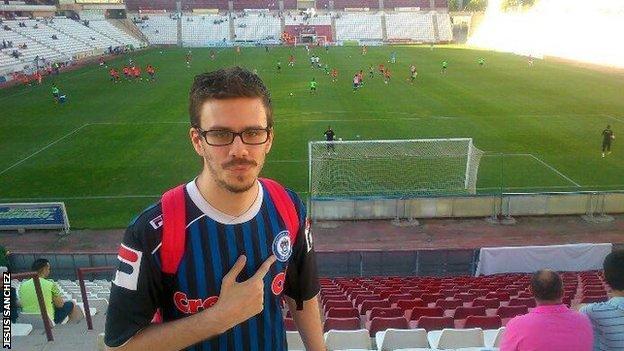 Will Jesus the Spanish Rochdale superfan help save the club from League One relegation on his first visit to Spotland on Saturday?
His fellow supporters certainly hope so and they have raised £500 to fly the 26-year-old, who discovered the club while playing computer game Fifa in 2009, to Greater Manchester.
Jesus Sanchez is leaving Spain for the first time in his life on Friday to watch Dale's final game of the season against Charlton, with survival at stake.
A win may not be enough for Rochdale, who are relying on rivals Oldham to drop points to avoid relegation.
But some fans are convinced that Sanchez, who is known by his Twitter handle 'Spanish Dale', will bring the team good luck.
"They told me in our WhatsApp group that 'Jesus is coming to save us'," Sanchez told BBC Sport.
Last year Dale fans rallied together and raised nearly £500 to get Sanchez to Greater Manchester, paying for flights, his first ever passport and an account for him to watch their games online - while he was able to watch their FA Cup replay against Tottenham at Wembley on Spanish TV.
He had become a hit on social media among the Dale fanbase with hundreds of passionate tweets about the club.
And despite being 1,000 miles away in Albecete south-east Spain, Sanchez shows his love of Rochdale in his home city, wearing the team's colours to local basketball and football games.
Now finally, his ambition to visit Spotland is about to come true and he is looking forward to seeing his favourite players including captain Ian Henderson and forward Calvin Andrew and possibly trying a pie.
"It was a surprise, like a dream," said Sanchez. "I felt a bit bad because they are giving me their money to go, but I am very grateful. I never thought this could happen.
"I would have preferred that Rochdale are in a better position to stay in the league, but I think it is possible they can stay up. I am excited to go there, for the atmosphere and being with the fans."
Sanchez came across Dale, who were in League Two at the time, while playing Fifa in 2009.
"I wanted a team with low budget, that I could get to the Premier League and win everything, I also liked the logo and the colours," explained the transport student.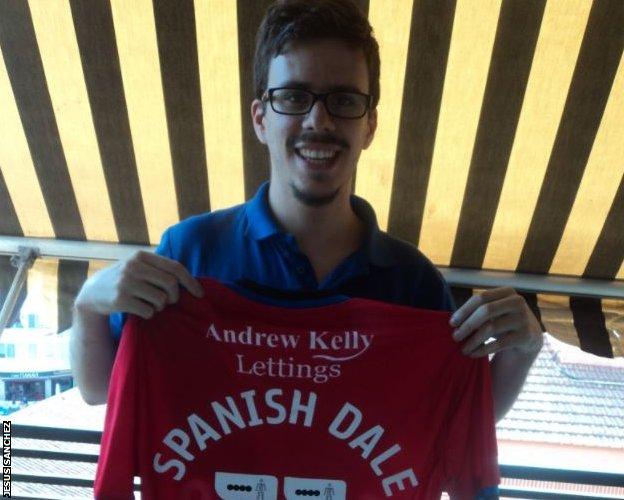 Rochdale, who have an average home attendance of just under 3,500 this season, say they are planning a special welcome for Sanchez.
"As a club, we think it's an absolutely fantastic gesture," said press officer Leighanne Coyle. "The generosity shown by supporters to contribute towards this fund has been amazing.
"Through his use of social media, it is great to see how passionate Jesus is about Rochdale, despite living in Spain. It's obvious he loves all things Dale."
Season ticket holder John Beckett, who was behind the idea - he set up a discussion on a Rochdale website forum - will host Sanchez, having also met him out in Spain last year.
"Hopefully Jesus will arrive and Rochdale will stay up," he said.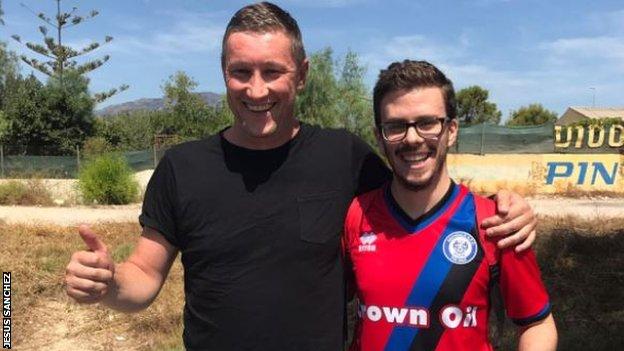 Two from three to go down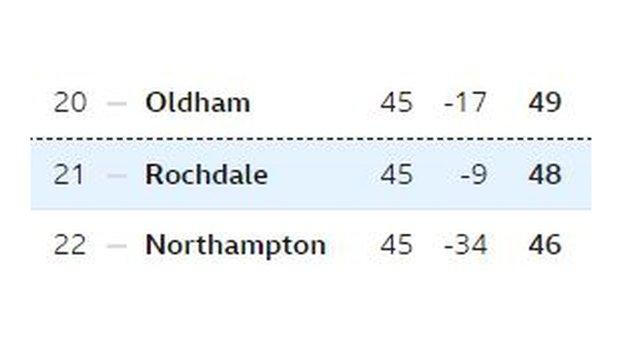 Rochdale host Charlton, who themselves need at least a point to guarantee a place in the League One play-offs.
A draw may be enough for Dale to survive because they are one point behind Oldham but have a superior goal difference.
The Latics are away at all-but relegated Northampton - the Cobblers would need a 9-0 win to send Oldham down but would also need Dale to lose to avoid the drop.