What makes a Jurgen Klopp player? Liverpool boss on the qualities he looks for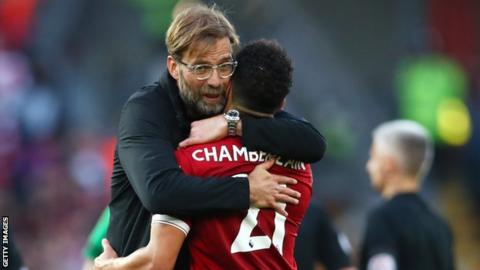 Who fits the Jurgen Klopp mould?
The Liverpool manager has brought in 13 players for a total of £225m since taking charge at Anfield and developed a team once again competing for top European honours.
Klopp's recruits have included Mohamed Salah, signed for what now looks a bargain £34m and picking up player of the year awards after scoring 43 goals in all competitions.
So what does it take to work for the charismatic German?
Young and confident
Players with potential, a point to prove and capable of raising their game have attracted the former Borussia Dortmund manager.
Only two of his signings since arriving at Anfield in October 2015 have been over the age of 27.
"I like confident but not too confident," Klopp tells BBC Sport before Liverpool take a 5-2 lead into their Champions League semi-final second leg away to Roma on Wednesday.
"[They need to be] ready for development because when we talk to a player because of the moment he's at in his career, the quality that he brings on the pitch, we expect more.
"We kind of don't want to remain on that level so we want to make the next steps together. So you need to be not a special character but you cannot [sign someone] if it looks a bit tired when you are talking about it. Then you know pretty early that it could be a little bit difficult."
Klopp signings (Player, age when signed, fee)
Marko Grujic, 18, £5.1m
Alex Manninger, 39, Free transfer
Kamil Grabara, 18, £250,000
Georginio Wijnaldum, 25, £25m
Sadio Mane, 24, £34m
Mohamed Salah, 25, £34m
Loris Karius, 22, £4.7m
Dominic Solanke, 19, Fee to be decided by a tribunal
Joel Matip, 24, Free transfer
Andy Robertson, 23, £8m
Ragnar Klavan, 30, £4.2m
Alex Oxlade-Chamberlain, 25, £35m
Virgil van Dijk, 26, £75m
Greed and ambition required
Gorging on goals has become Salah's forte since working under Klopp, helping Liverpool to within touching distance of a first Champions League final for a decade.
And his proficiency alongside Roberto Firmino and Sadio Mane has led to him collecting both the Football Writers' Association footballer of the year and Professional Footballers' Association player of the year awards in the same season.
"They need to still have this greed and ambition and all this stuff. I really want that," Klopp continues.
"I want that they understand, or have the tools to understand, the size of club, that it's not too big for them but they can use it for their next step.
"The first thing that makes sense is he's a really good football player otherwise it's a waste of time, but then it's what kind of feeling do you get when you talk to him.
"I didn't know Bobby [Firmino] before I came in. I knew him as a player but not as a person and he's even better as a person than as a player so that makes it quite a nice package."
'You're taller than on TV'
Klopp tells players as much about himself as he asks them.
"That's how it is. They should know who they are working with. We all know each other from television so that's fine. Probably the first thing that people always think when they see me is you're taller than on TV and that helps to get the conversation started.
"It's a start of a relationship. We have a relationship, we work together, quite intense, and I work for a long period of time and that's why I want to know who I'm working with.
"I don't think I'm a mind-reader, I've just never forgotten how it feels to be as a player," adds Klopp, who says his own undistinguished 11-year career as a player at Mainz has enabled him to empathise with those who work under him.
"You don't have to be a good player to know what a player thinks and I'm a father since I'm 20 so I don't think I had a lot of knowledge about being a father or a leader of a group of young boys at that age, but I learned.
"They are very important to me and not because they have to deliver performance after performance after performance. No, because I know everybody needs help in life - so a little advice here, a word here, maybe a hug from time to time."
Jurgen Klopp was speaking to the BBC's Juliette Ferrington