Liverpool and Rome mayors ask for 'celebration not violence'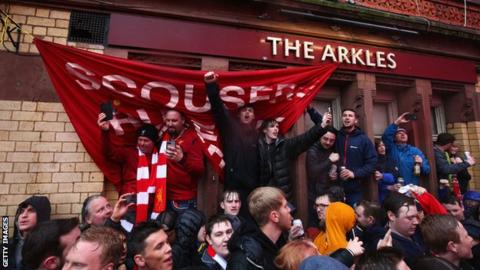 The mayors of Liverpool and Rome are calling for a "violence-free evening" at Wednesday's Champions League semi-final second leg in Italy.
In a joint message, Joe Anderson and Virginia Raggi pleaded for fans of Roma and Liverpool to "enjoy the rivalry" but show "compassion and kindness".
Liverpool fan Sean Cox was attacked outside Anfield before the semi-final first leg last Tuesday.
On Monday, doctors were hoping to bring the 53-year-old out of an induced coma.
Two Italian men have been charged in connection with the violence before the match, which Jurgen Klopp's side won 5-2.
In their statement, Anderson and Raggi said Liverpool fans would be greeted with the same "warm welcome" as they offered to Roma fans a week ago.
"When AS Roma fans arrived in Liverpool, they were greeted with open arms, a warm welcome and an invitation to enjoy the city and the people who live here," the signed letter read.
"Liverpool fans will receive the same warm welcome when they arrive at the footsteps of Rome, a city renowned for its beauty, passion and energy.
"Police forces from both cities are already working together, with the clubs, to provide a robust approach to football violence.
"They will provide the safest possible environment and we hope that fans from both sides will respect the people of Rome, assist the authorities and agree that the best result on Wednesday is a vibrant, passionate, celebration of our teams and a safe, violence-free evening.
"We both believe passionately in our cities. We believe we represent two peoples of incredible energy and joy and loyalty. But our cities also have compassion and kindness in common.
"Wednesday is an opportunity to show the world how two cities with strong football legacies can show pride and leadership in the modern game."