The Royal Dyche: Burnley boss has pub named after him
Last updated on .From the section Burnley
We can only imagine what fills the dreams of Premier League bosses... A league title? A cup run? Winning manager of the month? Enjoying a pint in a pub renamed in their honour?
For Burnley manager Sean Dyche, the latter is about to become a reality.
The Princess Royal, just a long throw-in from the Clarets' Turf Moor home, will soon be known as 'The Royal Dyche'.
Staff promised to rename the pub if the Burnley boss and his side secured European football this season, all-but doing so with a goalless draw against Brighton on Saturday.
And landlady Justine Lorriman says plans for a rebrand are now well under way.
"I don't know if I am more excited about getting into Europe or renaming the pub," the Burnley season ticket-holder told BBC Sport.
One creative supporter has already mocked up a makeshift sign to hang outside the building's entrance, but Justine is planning a permanent addition - once Dyche himself has approved the design.
"I am going to the player awards next week and hoping to catch him, just to make sure we can get his blessing," she added.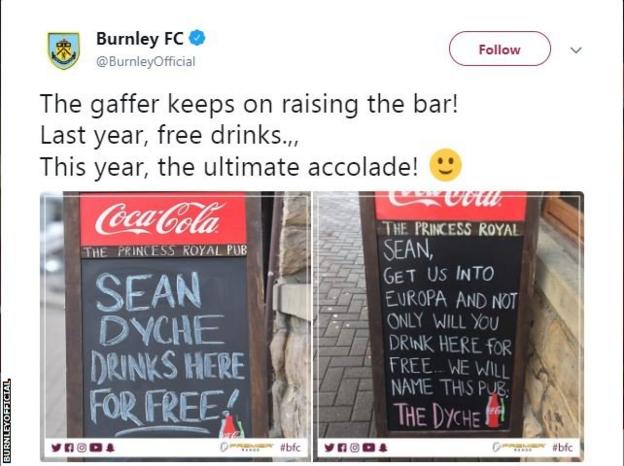 Staff at The Princess Royal first touted the idea in November as Dyche's side flirted with a European spot, but Justine admits no one at the pub truly believed they would still be there come the end of the season.
Dyche joked in a news conference that perhaps it should be renamed 'The Handsome Ginger Fella', but owners have opted for The Royal Dyche - keeping a slice of the pub's own heritage while incorporating the gravel-toned boss into its name.
With two games to go, the Lancashire outfit sit seventh in the Premier League and occupy the last European qualification spot, six points above Everton with a far superior goal difference.
Next stop for Burnley fans, the Europa League - via a drink in The Royal Dyche, of course.