Barnet v Chesterfield: Martin Allen boss hoping for final game Hive of inspiration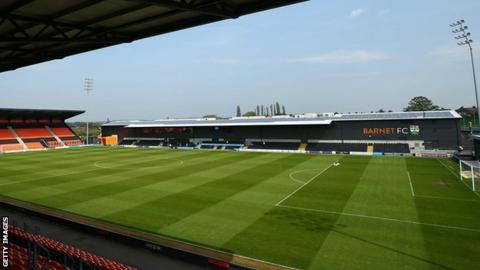 Barnet manager Martin Allen hopes the home crowd at The Hive can give his relegation-threatened side an edge for Saturday's all-important final game.
Following Saturday's 1-0 win at rivals Morecambe, the Bees must now beat already-relegated Chesterfield to stand any chance of staying up.
But they also need Morecambe to lose at play-off hopefuls Coventry City.
"When I came back here in March, we said we'd get it the final game if we could," Allen told BBC Sport.
"We've now done that. All we can do now is get a full house at The Hive and smash it, on and off the field.
"We had a tremendous turn-out at Morecambe on Saturday. The power and the energy our fans gave us was great. The players love it."
Barnet have been relegated twice before, in 2001 after 11 seasons in the Football League and then again in 2013 after another nine seasons in the Football League.
Saturday's equations
If Barnet lose or draw, they would be relegated.
If Barnet win, they would stay up if Morecambe lose at Coventry.
If Morecambe draw, Barnet would need to win by seven goals or more.
'Mission Impossible' almost accomplished
Barnet were bottom of the EFL, seven points adrift of safety with eight games when Allen returned to the club for a fifth time on 18 March.
Along with Barry Fry (1991) and Paul Fairclough (2005), Allen is one of three previous Bees managers to take the club into the Football League, having done so in 2015.
Even Allen dubbed it as 'Mission Impossible' but the Bees have now taken 10 points out of a possible 12 to put the wind up Morecambe.
"All the work we put in to get the club back in the league, we now have to make the most of it," added Allen.
"The players have built up a real rapport and I've really enjoyed working with them.
"Saturday was probably the best performance since I came back here. I knew we were going to win. The players put their heads in the way and their bodies on the line.
"But you have to be calm. And you can only be calm if you have a good group, which I have. I sleep well."