Tactics, motivation, alchemy: How Neil Warnock transformed Cardiff City
By Dafydd Pritchard
BBC Sport Wales
Last updated on .From the section Cardiff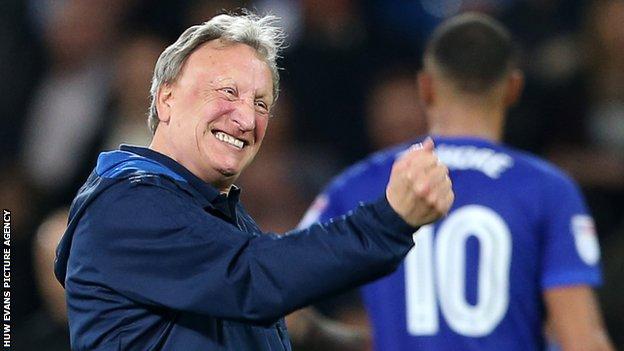 When Cardiff City were languishing second from bottom of the Championship in the autumn of 2016, the idea of promotion seemed fanciful even for the most optimistic of souls.
Apart from Neil Warnock, that is.
Out of work since rescuing Rotherham from relegation the previous season, Warnock was the firefighter Cardiff turned to as they searched for a similar escape route.
Despite their bleak situation, however, the former Sheffield United and Queens Park Rangers manager declared on the day of his arrival his ambition to win a record eighth promotion.
It was a bold statement but, 18 months on, Warnock is one game away from achieving his goal.
Cardiff are second in the Championship table, one point ahead of third-placed Fulham, whose result at Birmingham the Bluebirds only need to match at home to Reading on Sunday to secure promotion.
It is a scenario which exceeds Cardiff's wildest expectations at the start of the season, when bookmakers' odds suggested they would be meandering in mid-table.
Given the squad he inherited and the modest funds he has used to improve it, Warnock's transformation of Cardiff has been an act of footballing alchemy.
So how has the 69-year-old turned a group of misfits and underachievers into promotion contenders?
Warnock the alchemist
Whereas the likes of Wolves, Aston Villa and Middlesbrough have spent heavily in a bid to return to the Premier League, Warnock has worked with relatively limited resources.
That includes salaries as well as transfer fees, with Sheffield Wednesday - currently 16th in the Championship table - among those with a larger wage bill than Cardiff.
Warnock has often noted how his side have overachieved, as embodied by the first two signings of his reign.
Within a week of his appointment in October 2016, Warnock delved into the free transfer market to sign winger Junior Hoilett and centre-back Sol Bamba.
Hoilett had been without a club since his release from Queens Park Rangers that summer, while Bamba had unexpectedly become available in September after leaving Leeds by mutual consent.
Their impact was immediate in the last campaign and both have been pivotal to Cardiff's promotion bid this season, with Hoilett the club's second top scorer with 11 goals in all competitions and Bamba named in the PFA Championship Team of the Year.
"He [Warnock] is like a father figure," says Bamba.
"As soon as he had the chance to bring me in, he did and, as soon as I had the chance to work with him, I took it."
Having guided Cardiff to safety at the end of last season and looking to propel them up the table in his second campaign, Warnock's best business last summer again involved free transfers.
The first two were from League One, with goalkeeper Neil Etheridge and winger Nathaniel Mendez-Laing joining after their contracts had expired at Walsall and Rochdale respectively.
Philippines international Etheridge has been an assuring presence for a Cardiff defence which has conceded only 39 league goals this season, while Mendez-Laing has caught the eye with seven goals and several sprightly displays out wide.
Arguably, however, Cardiff's signing of the season is Callum Paterson.
The 23-year-old joined from Hearts as a right-back but, having been moved into midfield, the Scot has proved a revelation with 10 goals in 31 league appearances.
"I've just given him a bit of freedom in there," Warnock says.
"I'd want him in the trenches with me any day."
Warnock the 'tactical genius'
Warnock's varied deployment of Paterson is indicative of his tactical flexibility and ability to adapt.
The veteran manager is renowned - and often maligned - for his direct approach and, while his teams do have a rugged physical edge, there can be subtlety and sophistication to Warnock's tactics.
Wales assistant coach Osian Roberts has watched Cardiff regularly this season as a pundit for BBC Radio Wales and Radio Cymru and has been impressed by Warnock.
"He's not a 4-4-2 man who turns up every week where you know what you're going to get from a tactical viewpoint," says Roberts.
"You do from a physical and competitive viewpoint but, from a tactical viewpoint, there have been many and major adjustments he's made which have been particularly interesting."
Roberts highlights Cardiff's away win against Middlesbrough in October as a match which demonstrated Warnock's tactical nous.
Referring to this photograph he took himself, Roberts says: "You will never get this in any coaching book and, if you saw it, you'd say 'What the hell is going on there? But in many ways it's tactical genius.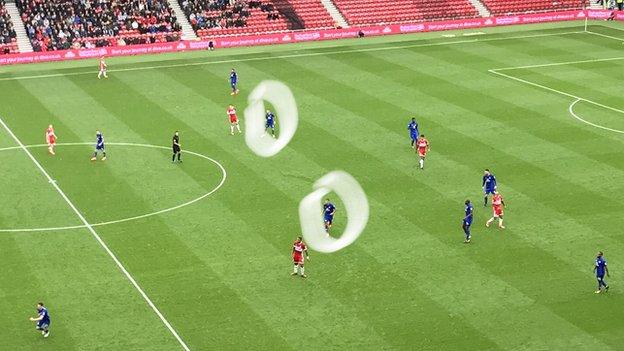 "Middlesbrough are playing 4-4-2 with their two wide men coming into number 10 positions and their two full-backs bombing on high and wide, virtually as wingers," Roberts explains.
"Against that, Cardiff in a 5-4-1 have a back three of Sean Morrison, Sol Bamba and Bruno Ecuele Manga.
"The two wingers, Junior Hoilett and Nathaniel Mendez-Laing, are in the wing-back positions, marking Middlesbrough's wing-backs.
"The two wing-backs, Joe Bennett and Lee Peltier, are in the two holding midfield positions, and the two holding midfield players - Joe Ralls and Craig Bryson - are pushed on.
"Not only that, Peltier is the right wing-back but is on the left and Bennett has gone with his man all the way across from left wing-back to the right of the holding midfield.
"If [Pep] Guardiola did that, everybody would be saying 'What a tactical genius' but, because it's Neil Warnock, probably nobody mentioned it."
This novel approach is typical of Cardiff's tactical variety this season, with Warnock regularly changing formation and rotating his players to keep them on their toes.
And it is Warnock's man-management which Roberts believes has been pivotal to the Bluebirds' promotion bid.
"That's an art," he adds.
"He's adapted over time. Otherwise he wouldn't be able to deal with and manage the modern-day player.
"That's not an easy thing to achieve - many have failed."
Warnock the motivator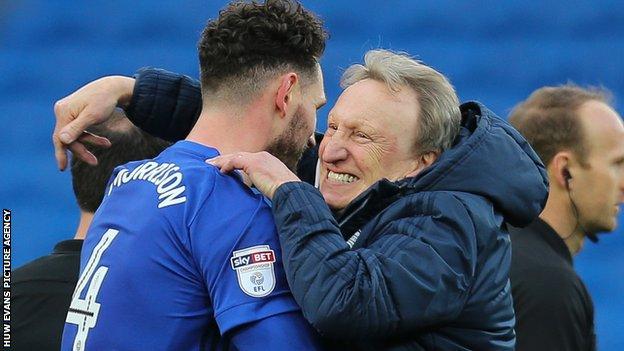 That art of man-management, as Roberts puts it, might be Warnock's most valuable attribute.
While he has signed resourcefully and demonstrated tactical acumen, Warnock's ability to improve the players already at his disposal has been equally significant.
Under his tutelage, for example, Sean Morrison has evolved from a strong but occasionally sloppy centre-back into an inspirational captain who has dominated defensively and scored seven goals this season.
The most startling improvement, however, must be that of striker Kenneth Zohore.
A peripheral figure after joining from KV Kortrijk in 2016, Zohore made just one appearance under Warnock's predecessor, Paul Trollope.
But Warnock saw promise in the Dane and viewed his development as a project, working tirelessly to improve his fitness and confidence - and it worked, with Zohore scoring 13 goals between January and May last season.
His form attracted interest from Premier League clubs and Warnock himself says Zohore's transformation under his management has been 'a revelation'.
Tales of such progress ring true with many of Warnock's former players, including ex-Wales and Cardiff defender Danny Gabbidon.
"The team spirit, determination and work-rate Neil Warnock has instilled into this team has been key to what they've done," says Gabbidon.
"There have been good players there for a number of seasons now. But when I went back there for the final season playing, that is what was missing.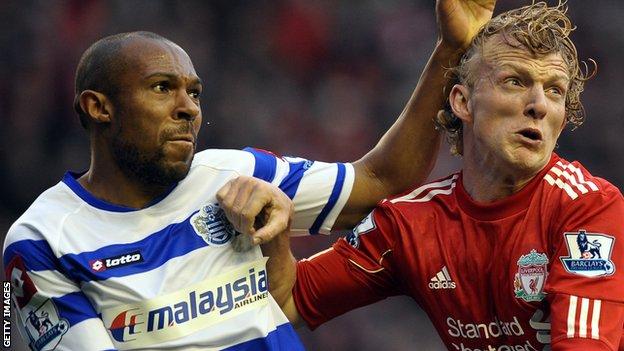 "When I walked into the dressing room there just was not that kind of atmosphere to gain promotion. You did not feel there was a team spirit and togetherness that was needed. I think that is the biggest thing he has done.
"When it comes to man-management I think he has to be right up there with any manager I have played under. I would say it is his biggest strength.
"Don't get me wrong. He can be ruthless, so if you are not doing the job for him he will certainly let you know in no uncertain terms.
"But as a player that is what you want from your manager. You want that kind of honesty.
"You won't always agree with some of the stuff he does or says but, by the time that whistle is ready to go on a Saturday afternoon, you want to run through a brick wall for him.
"At Cardiff, he has got the players believing and he has has the fans back on side. He has been the key factor in turning the team around in such a short space of time.
"From being in the relegation zone when he arrived to finishing mid-table last season and now looking like they are going to finish in the automatic promotion places, it's been incredible."