Andre Ayew: Swansea striker '100%' confident of survival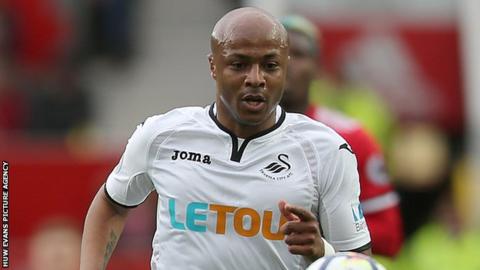 Striker Andre Ayew says he is "100%" confident that Swansea City will avoid relegation from the Premier League.
Swansea lost 1-0 to Chelsea on Saturday whilst relegation rivals Southampton beat Bournemouth to close the gap on Carlos Carvalhal's team to one point.
However Ayew, who rejoined Swansea in January, said he is sure they have the quality to stay in the Premier League.
"We have to stay positive and I'm 100% confident we will stay up and we have that quality," said Ayew.
"If we want to stay in the Premier League we have to be strong and be ready for any challenge.
"We are working well, training hard and the lads are showing a lot of mental strength when the going is difficult.
"I have a lot of confidence in the guys and they are a real tough bunch, we are going to the end together as a unit and as a family and we are fighting for our lives."
Swansea still have to play the two teams directly below them in Southampton and Stoke at home, but first they travel to Bournemouth.
Ayew's comments echo those of on-loan midfielder Andy King who said he believes the relegation battle "could come down to the final week".
Southampton game will decided Swans' fate
Swansea's South Korean midfielder Ki Sung-Yueng said he believes the relegation battle will be decided when Southampton come to the Liberty Stadium on Tuesday, 8 May.
They are at Bournemouth on Saturday, 5 May and host Stoke a week later.
"The game against Southampton is going to decide who will stay in the Premier League, I think, so that's the biggest game of our season," said Ki.
"We are okay and not worried. I believe our players showed that against Chelsea, a top five teams and last year's champions."
Strikers need help
Ki added that he did not think Swansea's lack of recent goals will have an impact on their relegation fight.
The Swans have scored just two goals since their 4-1 win over West Ham on 3 March, once against West Bromwich Albion and once against Everton.
"If you want to score everyone has to help, it's not just the strikers," said the South Korean.
"We need to help them score and of course they want to.
"Sometimes in a game that doesn't happen, but I think we will all focus on the next few games and we believe we have the ability to score goals."