Gaetan Bong: Chris Hughton says Burnley fans' reaction was 'shameful'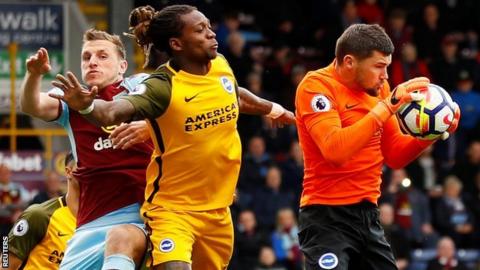 Brighton boss Chris Hughton says the booing of Gaetan Bong by Burnley fans on Saturday was "shameful".
Defender Bong accused West Brom's Burnley-born striker Jay Rodriguez of racially abusing him during a match in January, a charge found "not proven".
Burnley fans chanted "Jay Rodriguez, he's one of our own" as well as booing Bong whenever he touched the ball.
"I was incredibly surprised, I must admit. I certainly didn't expect it," said Hughton.
"I thought the reaction of the Burnley supporters towards Gaetan was shameful.
"He's an incredibly disciplined and straight individual - as honest a person as you will meet.
"It's something that happened, it's not nice at all, and of course he's big enough and strong enough to cope with it."
What is the background?
Bong made the claim after an incident involving Rodriguez during West Brom's 2-0 home win over Brighton on 13 January.
Rodriguez, who has one England cap, appeared to pinch his nose after the players clashed, and Bong spoke to the referee.
Rodriguez was charged by the Football Association, which delivered its verdict earlier this month.
Saying the allegation was "not proven", it added there was "no suggestion by any party involved in this case that this was a malicious or fabricated complaint".
It also said it was "completely satisfied that this was a complaint made in absolute good faith".