Cardiff City promotion would be Warnock's 'greatest achievement'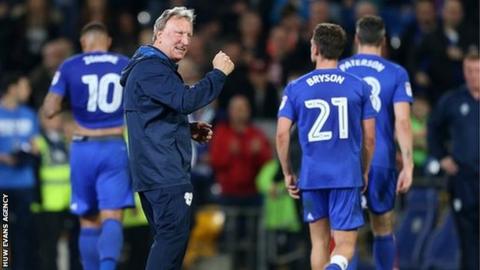 Neil Warnock says a record eighth promotion with Cardiff City would be his career's "greatest achievement".
The Bluebirds occupy the Championship's second automatic promotion spot, one point ahead of third-placed Fulham with two games left.
Having fought off relegation last season, Cardiff were rank outsiders for promotion at the start of this campaign.
"It's quite an achievement just to get us where we are," said Warnock.
"Only when you're behind the scenes do you realise what's had to be done since I came here, to get all the components firing in the same system.
"This would be the best, the most difficult, I would think it's the greatest achievement I've ever had if I get them up."
Cardiff visit Hull on Saturday before hosting Reading on the final day of the regular Championship season on Sunday, 6 May.
With Fulham entertaining already-relegated Sunderland on Friday, Cardiff could have fallen to third in the table by the time they take on Hull.
"To be in our situation, there's a lot of teams below us who would snap our hands off," Warnock added.
"A lot of people looking at what we've got and what we've spent in comparison, it's quite a remarkable story, really."
Warnock is one of four managers to have won seven promotions, along with Dave Bassett, Graham Taylor and Jim Smith.
Whereas the former Sheffield United and Crystal Palace boss has become synonymous with getting teams over the finish line at these crucial stages of the season, Cardiff have fallen short on several occasions in their recent history.
Since 2002, the Bluebirds have missed out on promotion via play-offs on four occasions, with three of those in the last eight years.
Warnock, however, does not believe those failures will have any bearing on Cardiff's current side.
"I don't think so. It's only individual teams," he added.
"It's quite possible that we'll fall at the last hurdle but I think we've had a great season whatever and I think our fans do as well.
"It's surprising what happens at this stage of the season.
"The only pressure on me is I'd love to get my eighth promotion, it's nothing to do with financial. I just think it's an amazing feat what the players have done.
"We've overcome a lot of obstacles, a lot of injuries, a lot of bad [refereeing] decisions."
Meanwhile, Cardiff midfielders Aron Gunnarsson and Callum Paterson suffered knocks during Tuesday's defeat at Derby but are expected to be fit to face Hull.
Warnock's promotions
Scarborough: 1986-87 Football Conference title, promoted to the old Fourth Division.
Notts County: 1989-90 Old Third Division play-offs, promoted to the Second Division.
Notts County: 1990-91 Second Division play-offs, promoted to First Division (top flight).
Huddersfield: 1994-95 Division Two play-offs up to Division One (second tier).
Plymouth: 1995-96 Division Three play-offs to Division Two.
Sheffield United: 2005-06 Championship, second place and automatic promotion to the Premier League.
Queens Park Rangers: 2010-11 Championship title, promoted to the Premier League.