Everton: Sam Allardyce says he will stay after talks with Farhad Moshiri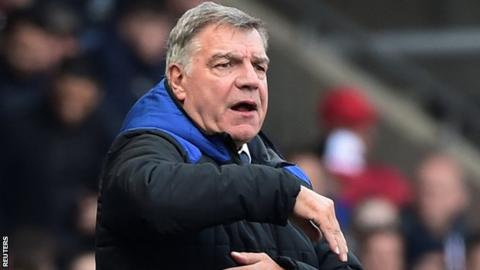 Everton manager Sam Allardyce says he will remain in charge next season after holding talks with majority shareholder Farhad Moshiri.
Since Allardyce took over in November, Everton have climbed from 18th to eighth in the Premier League table.
However, he has been heavily criticised by some fans for the style of play.
"We discussed plans for next season yesterday. We have some clarity moving forward now," said the 63-year-old, whose contract expires in June 2019.
Asked to confirm whether he was staying next season, Allardyce said: "Didn't I just say that? For clarification, yes."
Everton have won eight, drawn six and lost seven of their 21 league games under Allardyce.
He suffered abuse from supporters after the defeat by Burnley in March, and during and after this month's draw at Swansea.
He defended Everton's football after they laboured to a 1-0 win over Newcastle on Monday.
This month it was revealed that as part of an exercise with a fan panel, the club sent a survey to a group of supporters asking them to rate Allardyce's performance on a scale of zero to 10.
"We can always strive to do better," said former England manager Allardyce. "We started my reign so well that we built up a great expectation that it might even be better than it is now.
"With how hard we've all worked behind the scenes, we've achieved a good way forward in the space of only five months - and it is only five months.
"It's been pretty satisfying so far, but one is never satisfied as a manager. You always want your team to do better."
Analysis
Former England and Everton midfielder Peter Reid on BBC Radio 5 live
Some of the fans don't like the style of football and I understand that. Sam has come in to do a certain job and he has done it.
The fan survey was a huge mistake. You cannot do things like that to any manager, let alone one of Sam's profile and the Everton manager. I always look at Everton and think 'class' - and that wasn't classy.
Everton are a massive football club. He's done a great job and most Evertonians want an answer - someone to say, 'right, you're here for the next season' - that's how long his contract is. Or, if he's not, make a decision.