Arsenal 1-1 Atletico Madrid: Arsene Wenger says worst result for Arsenal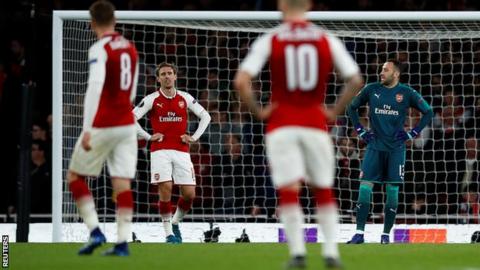 Arsenal's 1-1 home draw with 10-man Atletico Madrid was the "worst possible result", said boss Arsene Wenger after the Europa League semi-final first leg.
The Gunners led until the last eight minutes of the game against a side who had a player sent off in the 10th minute.
But a defensive mistake allowed Antoine Griezmann to level and give the visitors the advantage in the tie.
"Of course it feels like an opportunity missed," Wenger told BT Sport.
"We could have qualified tonight but it didn't happen.
"Unfortunately we gave a goal away from nowhere but now we need to recover from the disappointment and prepare for the next game.
"Looking at the performance and the way the game went, it was the worst possible result for us, but we have to go there in a positive mood and qualify over there."
Arsenal dominated Thursday's game at Emirates Stadium, partly thanks to the sending off of Atletico's Sime Vrsaljko, who was dismissed for two yellow cards in the first 10 minutes.
It sparked a frantic few minutes that ended with Atletico's furious manager Diego Simeone sent to the stands for remonstrating with the referee.
Despite their numerical advantage, the Gunners failed to find a way through until Alexandre Lacazette rose to nod in Jack Wilshere's cross.
And with eight minutes remaining, Griezmann latched onto a long ball forward, shrugged off Laurent Koscielny and stabbed into the net at the second attempt to swing the tie Atletico's way.
"Their keeper made a lot of saves and they showed their quality by scoring with one chance," added Wenger. "But they couldn't score with a combination, they could only do it with a long ball, so we have to look at ourselves.
"Once they went down to 10 men it destroyed the flow of the game and it wasn't to our advantage. The only advantage of that result is that we know exactly what we have to do. We have nothing to lose."
Atletico Madrid are unbeaten at home in La Liga this season, although they were beaten at the Wanda Metropolitano by Chelsea in the Champions League group stage and by Sevilla in the Copa del Rey.
Asked about Atletico's impressive home record, Wenger said: "You don't look at the statistics, you can only look at your own performance and we know we can score from anywhere. What matters is that we go there with the belief to do it."
Simeone was full of praise for his players afterwards, saying: "They are basically heroes. They stood firm for 80-something minutes.
"The team responded to the red card with some fantastic defensive work and I think that will go down in the history of Atletico Madrid."
'We have to be positive going into the second leg'
Arsenal striker Danny Welbeck told BT Sport: "It's disappointing to concede a goal at the end after taking the lead. We will do our own analysis on their goal and make sure it doesn't happen again.
"This game is done now and there were opportunities for us to score more against a good side, so we have to be positive going into the second leg.
"It's a semi-final - we wanted to win before the manager announced he was leaving and we wanted to win it after. We are professionals but seeing him lift the trophy would be the icing on the cake."
Speaking to BT Sport, Alexandre Lacazette said: "I really want to play in the final, maybe I'm the player who wants it the most in the team, but we have to work hard to achieve that."
'I think Atletico will end up in the final' - analysis
Former Republic of Ireland midfielder Andy Townsend on BBC Radio 5 live
There is hope for Arsenal, of course there is. The game is level at halfway and Arsenal have dangerous players. But you just sense that the opportunity has been missed. Ultimately they may pay for that momentary lapse in concentration.
It was a sloppy, sloppy five seconds. Three experienced players couldn't shut the door on one opponent and that has cost them so much tonight. I think, ultimately, Atletico will end up in the final.
It would have been a very good performance if they had got a 1-0 win. As it is, it is a decent performance but I do not think it will be enough.
'New regime can't come soon enough' - your view
Paul Dalton: Arsenal's defence was under next to no pressure for nearly the whole game but made a mess of the one situation they had to deal with. Realistically what chance have they got next week when they will have to defend for long periods?
Dave: If ever there was a match which showed the results of Arsenal's gradual decline over the last few years, that was it.
Philip James: One long ball and we concede. How many times has that happened in the last few years? New regime can't come soon enough.