Carlos Carvalhal: My job 'is the hardest of all of them'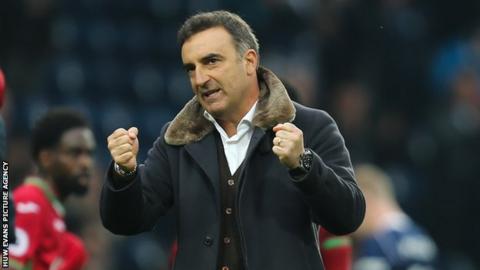 Swansea City manager Carlos Carvalhal says his job is the hardest in the Premier League, in response to Chelsea boss Antonio Conte's comments.
Before Chelsea recently faced Burnley , Conte argued managing a team fighting relegation is easier than one aiming to win trophies.
However Carvalhal, who took charge after in December with Swansea rooted to the bottom of the table, disagrees.
"I think ours is the hardest of all of them," said the 52-year-old.
"Why? Because when we arrived we were five points adrift at the bottom, no-one else was playing in this condition in this competition.
"The hardest job will be my job, I did not prepare the team at the start to win the title or to go to Europe.
"I accepted the challenge midway through the season when we were bottom in the relegation zone. There is no harder situation in the competition, absolutely sure."
The Portuguese manager added that he was not surprised to see Chelsea struggle this season after being crowned Champions last year.
"It can happen, this competition is very hard," said Carvalhal. "They were champions last season and it means other clubs are more focused against them.
"The same happened with Leicester where everyone has that motivation to beat the champions."
'I managed with peanuts'
Conte also claimed managers have an easier job at clubs with smaller transfer budgets, suggesting their lack of need to prepare for a transfer window makes life easier.
However once again, Swansea boss Carvalhal disputed Conte's comments, adding that managing clubs with smaller budgets can be even more challenging.
"So far, I never was at a club that said to me, 'You have this money, let's try to bring players to achieve what you want'," said Carvalhal.
"I didn't work with this kind of challenge so it made things more difficult in the past.
"If you have something to buy a player, that's one thing, but with money you know sometimes... even if you buy four or five, you never jump a level.
"So far, I managed with peanuts, just peanuts. But I'm happy, I'm not complaining."