Swansea City: Defensive injury crisis ahead of Chelsea visit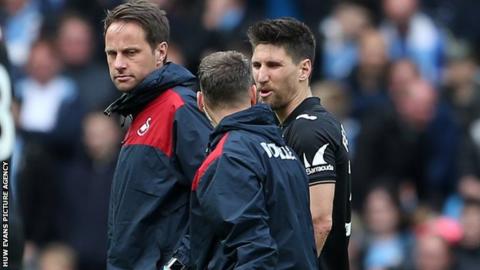 Swansea are facing a potential defensive injury crisis ahead of the visit of champions Chelsea.
Captain Federico Fernandez and fellow centre back Kyle Bartley are both having scans on knee problems.
"If the scans are not great, they will not play," said boss Carlos Carvalhal.
But the Portuguese is convinced his side will learn the lessons from previous relegation battles to stay in the Premier League despite poor recent form and can "finalise the miracle."
Experience will help
The Swans are 17th in the table, four points ahead of bottom three clubs Southampton and Stoke City who both visit the Liberty Stadium before the end of the campaign.
The Swans are involved in their third relegation battle in as many seasons as they seek an eighth successive season in the top flight.
Carvalhal is content the club's destiny remain in their own hands - and he believes winning past battles against the drop will have a positive impact on his players.
"They are ready. We talk about experience and experience is something I live in the past and when you live through something you must try to learn from it," he explained.
"Something positive about that, is our players have lived the last three seasons with the same pressure to win games in this part of the season.
"This is not bad. It is good because they know how to deal with pressure they know what they must do.
"Is it good to be in this position? Of course not.
"But it is different to teams who have not had that anxiety. . . . They don't have the experience, it is massive. They are more anxious about this moment, it is not easy to deal with this kind of pressure.
"I think we have positive pressure at his moment. We are not in a good position but in the relegation battle we are in a good position. So we have to think positively to try to achieve points.
"We don't need to be afraid, because nothing can happen this weekend.
"Negative pressure is if another team wins and we go to a very bad position if we lose. This can create anxiety in players and when players have anxiety they don't perform well."
No news on departures
Carvalhal played down fresh speculation over the futures of South Korea captain Ki Sung Yeung and England squad player Alfie Mawson.
Ki, whose contract expires this summer, has been linked with Everton while Mawson is reportedly interesting West Ham United, Tottenham Hotspur and Manchester United.
Carvalhal said the players were focussed on Premier League survival and their futures have been pushed aside for now, as has his own.
"Most important to me is to finalise the miracle, after this then we have time to talk," he concluded.