Bangor City: Third-placed club to be demoted from Welsh Premier League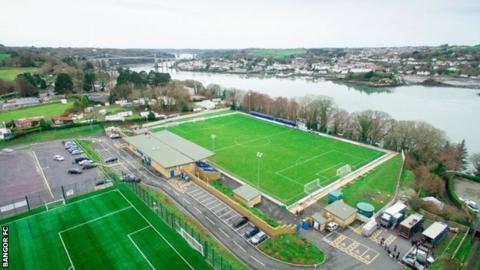 Bangor City, currently third in the Welsh Premier League table, have been refused a licence to continue playing in Welsh football's top tier.
The Football Association of Wales' Licensing Appeals Body met on Thursday to consider appeals from three clubs.
Connah's Quay Nomads and Llanelli Town both won their appeals and the right to play in the Welsh Premier next season.
However, Bangor will be demoted and will also now not be eligible to compete for a Europa League berth.
Bangor are one of three clubs to have been members of the Welsh Premier League since its inception in 1992.
Llanelli Town will now be promoted from Welsh League, Division One, while Bangor will be forced to play in the second tier Cymru Alliance League.
Bangor City were denied a UEFA and Tier One Licence, Connah's Quay Nomads were granted both - and will now play in the Europa League qualifiers - while Llanelli Town receive their Tier One Licence, which is mandatory to participate in the Welsh Premier League.
The FAW say clubs are assessed against the following criteria when considering licensing agreements, sporting performance, infrastructure, personnel, legal and financial concerns.
"We (have) received the news that our Welsh Premier League licence and Europa league qualification appeal has been revoked for failure to meet the financial criteria requirements," a Bangor statement said.
"The football club has built a championship contending squad with excellent sponsorship, investors and shareholders who have backed the club for the past two seasons.
"On the field we've finished third and off the field we find ourselves up date with HMRC VAT and PAYE, all wages for the squad and the staff (are) paid up to date.
"We will take stock of the situation over the next few days and make further announcements in due course. In the meantime we ask all the supporters to stand with us as we aim to get the club back in the WPL as soon as we can.
"We will work with the relevant parties at the FAW to ensure we are never in this position in the future."
Carmarthen Town say the decision today means they will not be relegated from the Welsh Premier League, which was welcomed by club director Gareth Jones.
"It is nice to hear something positive at the end of the season," said Jones.
"Having gone through a lot of emotion this season, we have had a positive outcome at the end.
"Relegation would have been a problem for us to raise our hopes again. Thankfully we don't have to worry about that now."