Gary Owers: Torquay United boss is 'not quitting' after National League relegation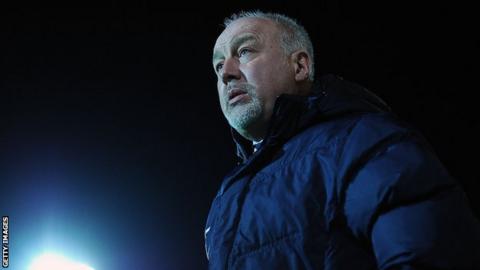 Torquay United manager Gary Owers says he will not resign after the club was relegated from the National League.
Some fans had called for Owers to quit after the Gulls were relegated to National League South - their lowest level for 89 years.
"I'm not quitting and I'm planning for next season," Owers told BBC Sport.
"I've been planning for next season for weeks and weeks, whatever the outcome. I've been planning for two scenarios so I'm going to get on with that."
The Gulls are eight points from the side immediately above the relegation zone - the same distance they were when Owers took over in mid-September following Kevin Nicholson's sacking after the first four games in August.
They were beaten 4-3 at home by bottom-of-the-table Guiseley on Tuesday night, despite their opponents having a man sent off after three minutes - a result Owers said marked the 'lowest point in my career'.
"I might not have much support, but I do have some support, I know that," Owers added.
"I've got support on the inside, definitely, and the only way I can improve things is by doing what I'm going to do, which is bring my own players in with my own ideas and work the way I want to work.
"Some of the things have been out of my control, but I know that when the final whistle goes on Saturday everything after that point will be under my control and then I'll get on with it and we'll put it right."
'You'd be hard-pushed to find someone with more all-round experience'
Owers had been manager of National League South side Bath City before leaving for Plainmoor and feels he is best-qualified to take the club out of the sixth tier of English football at the first attempt:
"I played 600 games, I played at the highest level against some of the top players, working under some of the top managers.
"I coached in the Championship, coached in the league. I think you'd be hard-pushed to find someone with more all-round experience at this level.
"I've been a manager, I've been an assistant manager, I've been head of recruitment, I've had numerous jobs in football."
Owers' first task will be to build a squad capable of bouncing back at the first attempt and he says he will aim to revamp as much of the playing staff as he can.
"I'm looking for players in all positions," he said.
"I'm looking for players that can win the league, as simple as that. I know what it'll take.
"I need goals in the team. I need more leadership in the team and I need some men to come and represent the club."