Women's Super League: FA still hopeful of sponsors for revamped divisions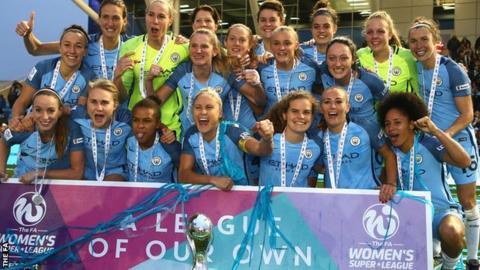 The Football Association is hopeful of securing a lead sponsor for the revamped Women's Super League, although one may not be in place by next season.
But women's sport can no longer simply be seen as a "bolt-on" for financial backers of men's sport, says Marzena Bogdanowicz, the FA's head of marketing and commercial for women's football.
The top four tiers - run by the FA - have been restructured for 2018-19.
The new leagues' names could have title sponsors but no deals have been agreed.
"I would rather make sure we have the right partner, with the right long-term benefit for the game, than to rush anything through for September," Bogdanowicz told BBC Sport.
"Any negotiation is going to take time and we're on a tight timetable, but we'd love to get it done."
Next season's WSL will be strictly for full-time teams, with clubs having to meet professional criteria, while the new Women's Championship - tier two - will be a part-time league.
| Current league name | New name from 2018-19 onwards |
| --- | --- |
| Tier One: Women's Super League One | FA Women's Super League |
| Tier Two: Women's Super League Two | FA Women's Championship |
| Tier Three: Women's Premier League Northern / Southern Division | FA Women's National League North / South |
| Tier Four: Women's Premier League Division One [four regions] | FA Women's National League One [four regions] |
The final list of the clubs to play in each of the revamped divisions in England will not be confirmed until the end of May, as the FA is considering bids from 15 teams hoping to join either tier one or tier two.
Clubs including Manchester United and Southampton have applied to join the new part-time Women's Championship, while West Ham United are hoping for a place in the top tier.
Securing long-term financial backing is an ongoing concern for several women's teams, with in-form second-tier side Millwall Lionesses a prime example, having recently warned that they were close to going into administration.
Sponsoring the women 'no longer a bolt-on'
"There's a chance for someone to come forward across all different areas," Bogdanowicz said. "We're looking at the Women's Super League and all the other tiers. They're all separate propositions.
"We know that the quality of the WSL, with full-time players, is going to be amazing, and it's a game-changer.
"In the past - across many sports, not just football - it's often been a case of sponsoring the men and 'oh, by the way, you get the women free too', so it was coming as a little bolt-on.
"That's what we're saying 'no' to. It's no longer a bolt-on. We want long-term partners who are committed to taking the women's game forward."
She added: "We're trying to inspire girls to participate and believe in themselves. I'm really pleased with he interest so far, and the media interest has gone through the roof which has helped."
English women's football does have commercial partners, with SSE sponsoring the Women's FA Cup and set to continue to do so next season, following the final at Wembley between Arsenal and Chelsea on 5 May.
Additionally, Continental Tyres, Vauxhall and Nike all support the England women's national team, who recently reached an all-time high of second in the world rankings, while Disney and Mars are further partners of the women's game in England.
You can now add WSL 1 notifications for line-ups, goals, kick-off, half-time and results in the BBC Sport app. Visit this page to find out how to sign-up.