Wolves confirm interest in safe standing in the Premier League following promotion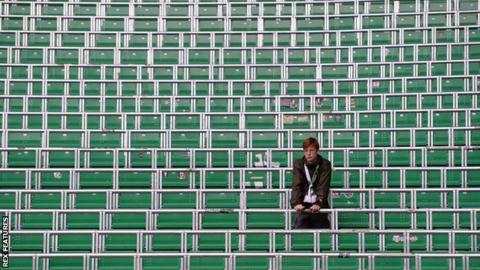 Promoted Wolves are keen to follow the example of Scottish giants Celtic by installing safe standing at Molineux.
On the day League One neighbours Shrewsbury Town received delivery of new safe-standing rail seats, Wolves have shown "interest" in Molineux being utilised as part of a pilot scheme.
"We have all been watching the trial at Celtic with interest," said Wolves managing director Laurie Dalrymple.
"Feedback seems overwhelmingly positive for atmosphere, safety and security."
All-seater stadiums are currently a statutory requirement in English football's top two divisions - although any club promoted to the Championship from League One has three seasons to have the required work done.
Another of Wolves' neighbours West Bromwich Albion had a proposal to introduce safe standing at The Hawthorns next season rejected by the government earlier this month.
The pilot scheme would have meant 3,600 seats in the Smethwick End being converted to 'rail seats', which can be locked in an upright position.
But Wolves have now got on board too, at a time when an e-petition on parliament.uk campaigning for safe standing had reached 99,379 signatures as at 16.30 BST on Wednesday.
If the petition reaches 100,000 signatures, it would automatically trigger a government debate on the subject in the House of Commons.
"As a club, we would certainly welcome the opportunity to be part of any safe-standing pilot-scheme given the green light by the government, football's governing bodies and the Sports Ground Safety Authority," added Dalrymple.
"Whilst West Brom's recent proposal may have been rejected, it is clear momentum is gathering in favour of those who want to see a safe-standing solution at least trialled in English football's top tiers, and we would very much like to be a part of that when it happens."
Background to the debate
The Taylor Report came out in January 1990, nine months after the Hillsborough disaster, recommending all-seater stadiums.
In July 1992, when the English Premier League was launched, standing was still allowed to be be kept in the two lower divisions.
Scotland's clubs were unaffected but, when the Scottish Premier League began in 1998, all-seater stadiums became a requirement north of the border.
Shrewsbury, who are third in League One and pushing for promotion via the play-offs, have been in their 9,875 all-seater home at Oteley Road since 2007.
They will start work, which is expected to take two weeks, on their proposed alterations next month, when this season is over.