Cyrus Christie: Kick It Out says social media firms must help stop racist abuse
By Brent Pilnick
BBC Sport
Last updated on .From the section Fulham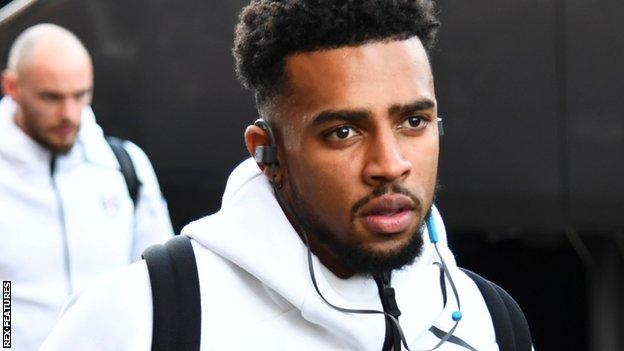 Social media companies need to do more to stop the online abuse footballers get, says campaign group Kick It Out.
The organisation, which fights racism in football, was commenting after Republic of Ireland defender Cyrus Christie revealed some of the racist abuse he has been sent on Twitter.
The 25-year-old Fulham player has had death threats and racist slurs.
"It appears you can go onto a social media platform and say what you want," said Kick It Out's Paul Mortimer.
Warning: Some people may find the language and content in the remainder of this article offensive.
Mortimer told BBC Sport: "If you said that in the street you'd find yourself in trouble, but the fact there is a platform that you can go on and say this stuff and be able to get away with it doesn't make sense.
"Everyone involved in football must challenge the social media giants to do more as it is having an impact.
'Nothing changes... Nothing gets done...'
The Football Association of Ireland referred allegedly racist abuse of Christie to police in November 2017, a few days after his country's World Cup qualifying defeat by Denmark.
Christie shared several messages on Tuesday, one of them showing a picture of two black people being hanged from a tree.
The user asked how he "could enter the world as black" and that his "best chance of survival" would be to "bleach his skin" or he would "be a dead man within three days".
In response, Christie posted that it was "sad to see people are still resorting to racist slander" and another message saying: "Nothing changes ....Nothing gets done ..."
Fulham have told BBC Sport that they are supporting and advising Christie and are consulting the "relevant authorities", while the Football Association said they were aware of the tweets and condemn all forms of discrimination.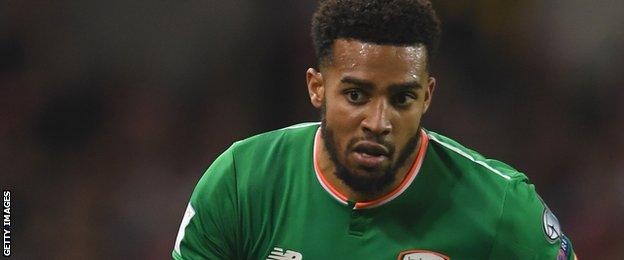 Mortimer - who played for Charlton Athletic, Crystal Palace, Aston Villa and Bristol City, and is now Kick It Out's professional players engagement manager - says threats from people are difficult to ignore.
"The anxiety is you have no clue who has threatened you," he said.
"I don't care who you are, you will have to be cautious about meeting new people or going to places you're not sure about.
"Cyrus is a public figure as an international footballer, it makes it difficult for him and his family.
"I don't know if the perpetrators understand the gravity of what they are saying but they need to be brought to justice, they need to be caught.
"But unless we get help from the social media giants, I don't know what we can do."
The BBC has also contacted Twitter for comments regarding the tweets sent to Christie and is awaiting a response.