'Liverpool's Champions League challenge gathering unstoppable momentum'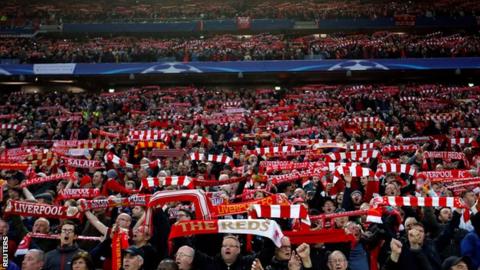 Liverpool's Champions League campaign is turning into a celebration of the style manager Jurgen Klopp wants from this rapidly maturing side - a gathering of unstoppable momentum that is carrying them towards the final in Kiev on 26 May.
And on the evidence of what started as a night of tension at Anfield but ended as one of elation, there is now a sense of mission driving Liverpool towards a sixth triumph in Europe's elite competition.
Roma's two late goals will set the agenda in Italy for the second leg on Wednesday week, a 5-2 defeat here at Anfield at least offering the opportunity to produce a second comeback along the lines of the 3-0 win that eliminated Barcelona in the quarter-final.
Liverpool, however, are the most devastating attacking side in the Champions League and Roma may be calling on too much fantasy to ask for lightning to strike twice in the Stadio Olimpico.
The potency and threat Klopp has assembled in Mohamed Salah, who has now moved into the bracket reserved for world class, Roberto Firmino and Sadio Mane will make even the superpowers of Bayern Munich and Real Madrid fear them should they reach the final.
Liverpool have scored 44 goals in 11 Champions League games and it is not an exaggeration to suggest they could have added four or five more either side of half-time in the sort of scintillating spell that has become their trademark.
They were helped by the approach of Roma coach Eusebio di Francesco, whose employment of a high defensive line and an apparent willingness to allow Salah to cut inside on his left foot was so naive it begged the question whether he has actually seen Liverpool play this season.
The Reds' campaign has been characterised by surges within games that bring floods of goals and tear down defences. This was the latest example - five goals coming from the opener in the 35th minute to the fifth after 68 minutes.
If goals are football's most priceless currency, Liverpool are cash rich.
Maribor and Spartak Moscow have both been beaten 7-0 in the Champions League, Porto were thrashed 5-0 in their own stadium, and even runaway Premier League winners Manchester City were beaten 5-1 over two legs in the quarter-final.
Liverpool are genuine contenders to win the Champions League - a phrase that outlines the strides Klopp has made in almost three seasons at Anfield.
The build-up in and around Anfield, which sadly included some unsavoury violent scenes, smacked of the usual atmosphere of sound and fury that might see Liverpool living on their nerves in this Champions League semi-final.
Liverpool were on edge for 20 minutes, Roma composed and almost taking the lead when Liverpool goalkeeper Loris Karius flapped Aleksandar Kolarov's shot against the bar.
And then it came. The surge.
It only takes the whiff of vulnerability and Liverpool pounce.
Roma's defence was suddenly rattled and there is a ruthlessness to this Liverpool side that makes it special. Klopp's players sense it. Liverpool's supporters sense it. Liverpool's opponents sense it.
The turning point was Mane's glaring miss, firing over when clean through. It drew gasps of anguish, especially when he wasted another golden chance seconds later, but it was the signal for Liverpool to get the sniff that is all they need.
It was akin to a red wave rolling towards Alisson's goal at the Anfield Road end. And it overwhelmed Roma.
Anfield was in full flow even before kick-off, but the volume dial switched up a notch with every attack.
Salah's two goals of differing class before half-time - a brilliant curling left-foot shot into the top corner that even Alisson was nowhere near, and a familiar lofted finish from Firmino's pass - set the platform. The Egyptian, the complete attacker, turned creator for the Brazilian and Mane after the break.
Firmino's header set up the prospect of another 'seven up' for Liverpool but the late goal from Edin Dzeko and Diego Perotti's penalty at least gave Roma something to cling to.
Liverpool, however, have surely come too far and possess too much weaponry to fall foul of the same fate as Barcelona.
The plaudits will rightly be offered in the direction of Salah, now with 43 goals and just four behind Ian Rush's all-time club record in a season, and Firmino - but two of Liverpool's experienced and unsung campaigners must also stand alongside them on the rostrum.
James Milner, at 32, delivered a central-midfield masterclass, while captain Jordan Henderson was also instrumental in ensuring Roma never had a second on the ball and, more significantly, barely got anywhere near Liverpool's goal in that early period when they exerted a measure of control.
The game concluded with mixed emotions inside Anfield. Liverpool's supporters were subdued briefly, disappointed by those two late goals, before a roar of acclaim rose from the Kop in recognition of a result they would have grabbed gratefully before kick-off.
Dejan Lovren's late error for Dzeko's goal was a rare defensive blemish for Liverpool, although Karius was also fortunate to escape that nervous moment in the first half.
There will be slight apprehension that Liverpool had both feet in Kiev before being dragged back a couple of paces - but the manner in which they have grown into the Champions League means there is suddenly that old sense of destiny enveloping the club and its supporters that they are on course to renew acquaintance with the giant trophy that would put them back on Europe's pinnacle.
Over a long season, Liverpool have been among those who have had to give best to the brilliant Manchester City, but in the two-legged format they are lethal.
And in Salah they have a player performing to such a level that he can now be mentioned in the same breath and Lionel Messi and Cristiano Ronaldo.
Not as a body of work - that comparison is a nonsense, obviously - but at this moment it is hard to make a case that any single attacker in world football is performing better than the 25-year-old Egyptian.
How Salah compares with the world's best
Player
Games played
Goals
Assists
Shot conversion rate
Chances created
Shots on target
Salah
47
43
13
23.89
87
90
Ronaldo
39
42
8
16.22
53
111
Messi
50
40
18
14.81
112
127
Neymar
30
28
16
20.59
98
63
It is a sign of world class when defences know what an attacker is going to do but are powerless to stop him. Salah's first goal was a prime example.
He has made it his business to cut inside on his left foot and attempt the curled finish through this golden season. He has done it on countless occasions to score, notably in the derby against Everton at Anfield.
It is not a secret but has anyone worked out how to stop him? Not yet. Certainly not Roma.
Roma shut out Messi and Luis Suarez on that historic night in the Eternal City on 10 April. It shows the full scale of Salah's stature that they will find it more difficult to subdue their former player next Wednesday.
It was not just Di Francesco who looked on in desolation as Salah tortured his old club. Roma's bankers may just have shed a tear that Liverpool were able to spirit him out of Italy for a fee of about £34m.
And it is that sprinkle of stardust Salah applies to Liverpool that has their supporters seriously pondering that sixth triumph and the old 'European Royalty' banner on the Kop carrying the ring of truth once more.