Sunderland: Some players do not want to be at Black Cats, says chief executive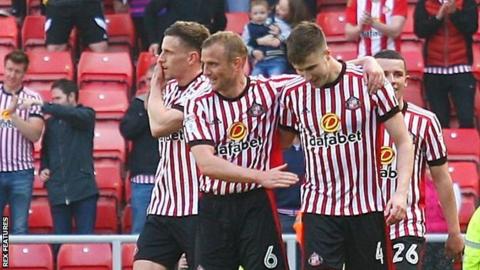 Sunderland chief executive Martin Bain says want-away players are "consuming vast amounts" of the club's budget.
The Black Cats were relegated to League One on Saturday, one year after going down from the Premier League.
"Some of the players that we have probably don't want to be here, and haven't wanted to be here for some time," he told BBC Newcastle.
"When you look at that without knowing where they are at mentally, as I do, then you just see liabilities."
Successive relegations could leave Sunderland paying top-flight wages in the third tier, but Bain is loathe to pay players' contracts off in order to reduce their wage bill.
"I am not putting compensation packages together," he said.
"Equally I'm not immune to the fact that the club is in a difficult position because we want to realise some transfer spend from some of those possible assets.
"People may see us as easy pickings in League One knowing we need to take high salaries off the budget."
New owner would be 'a game-changer'
Owner Ellis Short has been looking to sell the Wearside club, and the American has said he will give the club away for free if the buyer would take on the club's debt.
According to the last published figures in 2016, Sunderland's debt stands at £137.3m - but fresh club accounts are due to be filed in the near future.
Sunderland have spent just one season of their 130-year history outside of the top two tiers, and Bain believes the Stadium of Light side "just needs a spark" to succeed under a new owner.
"Being sold would be a game-changer," said Bain. "The club has good people, wonderful fans and great infrastructure.
"It won't take a lot to make this club great again.
"Anyone coming in would hopefully have the necessary sort of funds and would no longer have the financial backdrop that the club has had for a number of years.
"Anybody who looks at where the club is at can see it's a distressed asset but it has everything in place to springboard from. I'm surprised it's not been sold by now because I think it's a great club to acquire."
Bain took over as the club's chief executive in July 2016 and said that while Short was "proactive" in trying to sell the club he "no longer wants to fund the club other than what is absolutely necessary".
BBC Sport understands that a consortium headed up by former Hull City owner Adam Pearson ended its interest in the club on Tuesday.
Coleman 'fundamentally right' for Sunderland
Manager Chris Coleman said he "hoped" to be given the chance to turn the club around after their relegation was confirmed by Saturday's 2-1 home defeat by Burton.
The former Wales boss replaced Simon Grayson in November with the club bottom of the Championship, but was unable to help them move up the table. The 47-year-old admitted feeling "helplessness" at their plight.
Despite failing to turn around their fortunes, Bain backed the Welshman.
"Chris is fundamentally the right type of individual for this football club and he and I have a massive amount of determination to get this right," he added.
On the subject of criticism he has received from supporters, former Rangers chief executive Bain added: "When I came to this club nearly two years ago I found a club haemorrhaging money to an extent which was hugely reliant on owner funding.
"I did not expect one of my first tasks to be paying £9m for Ricardo Alvarez, a player who doesn't play for the club and that's just one of many.
"Jack Rodwell is on a huge salary too and I'm having to contend with these issues. It's what I'm paid to do and I haven't shirked my responsibility."