Jane Ross backs Manchester City to reach Champions League final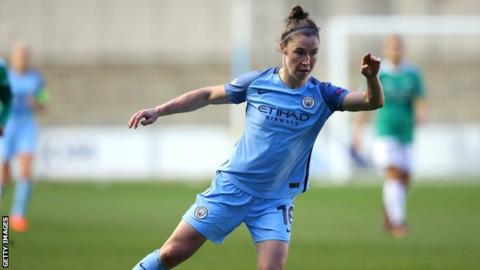 Scotland striker Jane Ross believes Manchester City can overcome defending champions Lyon to reach the final of the Champions League.
The sides meet in the first leg of their semi-final at the Etihad Stadium on Sunday.
Ross, who scored two goals in their quarter-final defeat of Swedish side Linkopings, is confident they can reach the final in Kiev next month.
"I believe we can do it and get to the final," Ross said.
City are aiming to reach the club's first Champions League final, which would keep them on course for their fifth major trophy in less than nine months.
Ross is one of a trio of Scotland internationals in the City team, alongside Claire Emslie and Jennifer Beattie, that is also still fighting to reclaim the Women's Super League crown that they lost to Chelsea last year.
They sit three points behind the London club - who face Wolfsburg in the other Champions League semi-final - with a game in hand.
"We've got a few weeks left and we've still got the Champions League to play for and the league title so it's definitely exciting," Emslie said.
Manchester City's men have swept all before them in the Premier League this season, and secured the title last weekend. And the club is trying to use the success of both teams to boost the support for the women at the crucial stage of Europe's elite competition.
"They've tried to tie in games in time with the men's, so for example, [on Sunday] our game is at one o'clock and then the men play at half past four. So the idea is to try and get more supporters to come to our game and then go to the men's game," Emslie explained.
"We're constantly trying to grow [attendances] and especially it being the Champions League we're expecting quite a few more [fans]."
Targeting the World Cup
The Scottish trio were all involved in the recent World Cup qualifying fixtures earlier this month, in which Shelley Kerr's side lost to Switzerland, but defeated Poland.
They sit second in their group, six points behind the Swiss, who occupy the only automatic qualifying spot. But, with a game in hand, Emslie believes the squad are still capable of reaching the finals in France next summer.
"We've got a massive opportunity and I believe we can do it," she said.
"In terms of Scotland making a World Cup I don't think it gets any bigger than that, especially as we've never qualified before.
"So to be the first team to go ahead and do it would unreal."
Neither Emslie nor Beattie were part of the first Scotland squad to play at a major finals at Euro 2017 in the Netherlands. The latter was ruled out with an ankle injury, with the team narrowly missing out on a place in the knockout stages.
"For me on a personal note, missing out on the Euros was pretty heartbreaking, so to make a World Cup with the squad would be huge," Beattie said.
"It's [about] pushing down barriers and proving to people that women's football is growing in Scotland and we're improving every year."
Scots will still head south
All three players have travelled the well worn path from the amateur game in Scotland, to the professional game in England. It's a journey they think Scottish players will have to continue to make for the foreseeable future.
"I couldn't go back and play in Scotland as it is now and develop at the same rate," said Emslie, who played for Hibernian before moving south.
But with Scottish Women's Football looking to move more players towards part-time or full-time football, former Glasgow City player Ross is hopeful the game can move forward.
"[We could see] the gradual progression of the league going semi-professional," she said. "Then hopefully in 10, 15, 20 years' time we will have a professional league."