Patrick Vieira 'flattered' by Arsenal links but happy at New York City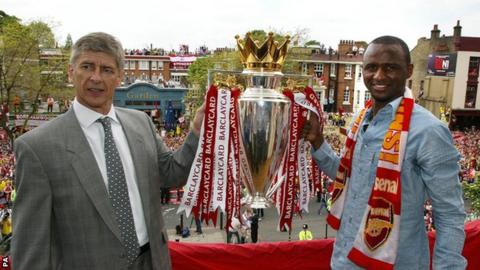 Patrick Vieira is "flattered" after being linked with taking over as manager of former club Arsenal but says he is "happy" as New York City coach.
The former France midfielder won three Premier League titles with the Gunners under Arsene Wenger, who will leave the club at the end of the season.
"I spent nine years at Arsenal which makes the club really special for me," he told New York radio station WNYE.
"But that is not enough to coach the team."
Vieira, like Wenger, arrived at Arsenal in 1996 when he signed from AC Milan and made 279 league appearances for the club.
He was part of two Double-winning sides with the Gunners, as well as the famous 'Invincibles' side which went through the 2003-04 league campaign unbeaten.
Vieira, a World Cup winner in 1998 with France, went on to play for Juventus and Inter Milan in Italy before returning to the Premier League when he joined Manchester City in January 2010.
He retired as a player before going into coaching and left his role as head coach of Manchester City's Under-21s to take over at New York City in January 2016.
"I am always flattered to hear my name linked with different football clubs. That is good for your ego but at the same time, I am happy here," he said.
"We will see what will happen in the next couple of years."
Other names that have been linked with replacing Wenger include ex-Barcelona boss Luis Enrique, former AC Milan, Chelsea and Bayern Munich coach Carlo Ancelotti, Germany boss Joachim Low, Celtic manager Brendan Rodgers and Monaco coach Leonardo Jardim.
I am convinced he has been sacked - Ian Wright
Wenger will leave Arsenal a year before his contract with the club expires and former Gunners striker Ian Wright believes he jumped before he was pushed.
"Arsene Wenger is a man of principle, honesty and integrity - that is why I am convinced he has been sacked and not resigned," Wright told The Sun.
"For all the vitriol and abuse thrown at him, Arsene has never been a man to walk out before the end of a contract.
"It is a sad situation that it's come to this and I don't suppose we will ever find out who is responsible, because they will hide behind each other.
"One day he is doing a news conference with no hint of this, the next he's gone. It doesn't add up.
"But Arsene can go with his head high. That's why, whatever the results, it is imperative he gets the send-off a true Arsenal and football legend deserves. We all owe him so much."