Andy Halliday has 'support' from Rangers manager Graeme Murty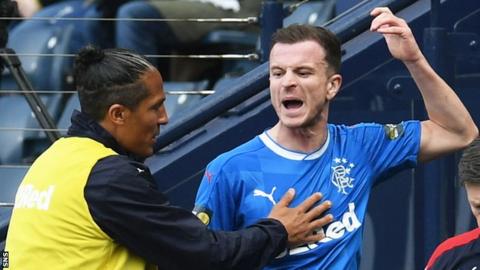 Rangers midfielder Andy Halliday has his manager Graeme Murty's "support" after the player reacted angrily to being substituted.
Halliday, 26, was replaced before half-time in Rangers' 4-0 Scottish Cup semi-final defeat by Celtic.
Murty did not comment on the club suspensions given to captain Lee Wallace and Kenny Miller.
"On a personal level, no-one likes to come off at that time and the impact of that has been hard," said Murty, 43.
"I regret that as a human being. But in terms of a professional level I had to make a decision to alter the shape of the game. Andy was the unfortunate guy. It's horrible. It happens. It's football.
"He didn't vent it at me as he came off. I didn't know about it until afterwards. I've no idea who it was aimed at."
Halliday, who joined Rangers in 2015 and helped them win the Scottish Championship and promotion the following year, was sent on loan to Gabala last summer but was recalled to Ibrox in January, making 10 appearances since.
"We've spoken this week," Murty added. "He's a little bit raw at the moment. He's a Rangers fan and he's hurting. So as a human being you have to take that into account, so I won't press him too much this week.
"But he knows he's got my support. I brought him back from Azerbaijan because I wanted him in the group."
Rangers confirmed on Tuesday that Wallace, 30, and Miller, 38, had been suspended, pending an investigation.
The duo are believed to have rounded on Murty following Sunday's defeat at Hampden.
Murty's side host Hearts in the Scottish Premiership on Sunday, by which time Celtic may have won the league title.
The Ibrox outfit are second in the division, leading Aberdeen on goal difference and Hibernian by three points.
Daniel Candeias also showed his frustration when being substituted against Celtic and there was an angry exchange between Greg Docherty and Alfredo Morelos in the tunnel.
Of the latter incident, Murty said he had spoken to Docherty and was assured there was "nothing in it".
And the manager also said: "I don't want people coming off the pitch happy at being beat. I want people who want to win.
"As long as we're all pulling in the same direction, those are the kind of personalities we want. The players are pulling really hard together."