Accrington Stanley: Promoted club stocks fridge with commemorative pints of milk
Last updated on .From the section Accrington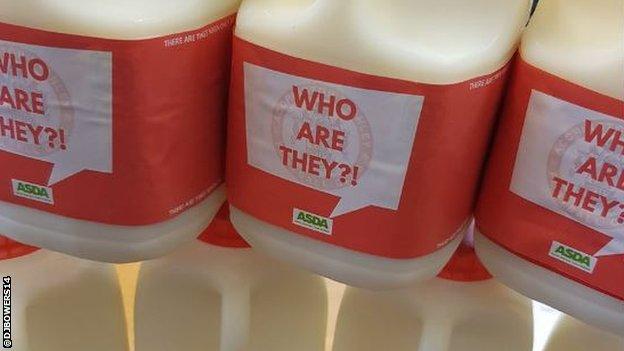 Accrington Stanley, a club who have been the butt of a dairy-themed joke for three decades, have celebrated promotion from League Two by stocking their fridge with commemorative pints of milk.
While it ranks very much as a champagne sort of moment, having milk at the ready is fitting for a club who are famously associated with the drink thanks to an advertisement aired in the 1980s.
"If we had a pound for every time milk is mentioned to us we would be rich club," said Accrington's commercial manager Daniel Bowerbank.
In the advert a young boy tells his friend that if he does not drink milk, Ian Rush, the former Liverpool star, says he will only be good enough to play for Accrington Stanley.
His friend replies "Accrington Stanley - who are they?"
The boy responds in a broad Scouse accent "Exactly".
The new milk logo has Accrington Stanley's crest on the bottle with the question "Who are they?"
Even legendary Wales striker Rush has got in on the milk-themed congratulations with a tweet...

"It's a classic advert and put Accrington on the map, but hopefully we will be recognised for more now," said Bowerbank.
"We even had Ian Rush tweeting us about milk - it's great to have little bits like that but slowly we are getting away from it."
But it is certainly not something the club hides from, so when some local Asda employees and a photographer turned up at the stadium unannounced to try to plug their milk they were welcomed in.
Commercially, Accrington get nothing, says Bowerbank, but they do hope the supermarket shifts a few extra pints of milk.
"If the community want to get behind the football club like that, it's great," he added. "What we got was milk to make a few brews for the players and enough to last us the week."