Juventus v Napoli - can the underdogs pull off a shock and please the purists?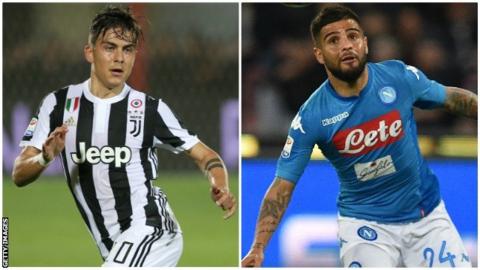 Juventus v Napoli
Date: Sunday, 22 April Kick-off: 19:45 BST
Coverage: Live text and report on the BBC website
Both England and Italy have produced teams that have played the most aesthetically pleasing football in Europe this season, but while Manchester City's money and tactical sophistication has guided them to a title, Napoli might not be so lucky.
On Sunday evening, Juventus will host Napoli in the most anticipated game of the Serie A season.
It is a game that will pit style against pragmatism, money against beauty and the north of Italy against the south.
When Napoli closed the gap to four points on Wednesday evening after they defeated Udinese 4-2, hope was renewed. Maybe, just maybe, the trophy could be heading south for a change but shhh - don't say it out loud!
Renowned journalist and novelist Matilde Serao once said: "Superstitions from all over the world come together in Naples where they are then magnified and multiplied."
In a city that has long lived for magic, miracles and hope that the struggles will pass and a new day will arrive, it comes as no surprise that they don't wish to discuss the Scudetto.
Their coach Maurizio Sarri, after all, is the most superstitious among them all.
"One day we were all ready to start training but Sarri hadn't arrived," recounted Nicole Pratesi to gianlucadimarzio.com, a player who once worked with the current Napoli tactician at Cavriglia.
"So, we waited and waited and waited until finally we decided to call him.
"He answered to say that he was stopped in his car because a black cat had crossed the road and so he has to wait for another car to pass ahead of him or he won't move. The only problem was that there were no cars on the road to pass him by."
If Napoli succeed in Turin they will be within a point of the league leaders hoping for any minor hiccup to exploit.
Should they lose, they may as well kiss the title goodbye as a seven-point gap will simply be too big for a club of Juve's stature to throw away.
And so, it comes as no surprise that for those who pray for a competitive Serie A, for the underdog to win and for style to overcome robotic professionalism, Napoli will be cheered for vociferously.
Beautiful football at a cost
Sarri's side have not only captured Italian hearts but European ones too as the likes of Pep Guardiola and other notable sportsmen around the world tune in to watch the latest instalment of Napoli's particular style of vertical tiki-taka.
In essence vertical tiki-taka is playing with the aim of moving the ball quickly up the pitch by way of short, swift passes forward - rather than play it sideways or keep the ball for the sake of holding possession.
Success of Napoli and Juventus in all competitions during 2017-18
Club
Europa League
Champions League
Coppa Italia
Serie A
Juventus
N/A
Quarter-final
Final (9 May)
Currently first
Napoli
Round of 32
Group stages
Quarter-final
Currently second
Sarri's delectable footballing philosophy is worthy of a symphony of compliments. The sheer speed of thought, the movement and the intellectual positioning produces entertainment of the highest order.
But, and there's always a but, if Napoli fail to prise the league title away from Juve, Sarri might have a few regrets to reflect upon at the end of the season.
At the earlier part of the season when competitors were suffering as they experimented and laboured to find the right tactical balance, Sarri's philosophy and set starting XI were already producing fluid and spectacular football.
For the tactician's ideas to translate so beautifully on to the pitch, he relied upon the chemistry between the players, the understanding of the tactical language that he had taught them in such detail.
As such, the Partenopei maintained a 100% record in Serie A until 21 October 2017, when they drew at home to Inter and dropped their first two points of the season.
The problem with such precise ideals is that it becomes hard to rotate the squad, as the fringe players cannot slot in with such ease. And so, as the season reaches its climax, Napoli have begun to show signs of exhaustion.
While they may have beaten Udinese, Napoli lacked sharpness over the weekend against a Milan side that was without its starting centre-back duo.
For a side that has systematically dropped out of the Champions League, the Europa League and the Coppa Italia, focusing solely on the Scudetto, tiredness should not be a problem.
However, when you consider the physical toll of playing such a precise style of football and the mental toll of playing for a team challenging the omnipresent Juve in a city that lives for football, you begin to understand the struggle.
Naples lives for football - it's why Higuain's face is toilet paper
There is a difference between residing in Turin and residing in Naples. In Turin, Juve is not the team of the city and players such as Higuain are allowed to walk around the town, unbothered and free of hassle.
As Dries Mertens explained to Dutch newspaper De Telegraaf, Napoli's stars cannot enjoy the same anonymity. "It is not always easy, because we usually walk on the street and everyone wants an autograph or a selfie."
Club honours
League title
European Cup
Coppa Italia
Uefa Cup/Europa League
Juventus
35
2
12
3
Napoli
2
0
5
1
Because Naples, you see, lives for football. Just ask Higuain who has to live with the knowledge his face is on toilet paper sold around the city, his betrayal still not forgiven.
It is why rotation is so important, something Sarri hasn't done enough of at his club.
Compare that to Massimiliano Allegri at Juve where he handed Benedikt Howedes only his second start of the season against Sampdoria and the defender scored in the team's 3-0 win.
In that club, players slot in and out as Allegri opts for simplicity in his tactics, caring little for formations but in the overall message. Defend, sacrifice and deliver for the team to score.
In fact, you can argue their lack of style is the reason behind their efficacy. They don't need to dazzle, just do enough to win.
That and their money. While Allegri can look to the likes of Douglas Costa and Federico Bernardeschi to solve difficult puzzles, Sarri's squad is a little short of dynamic options.
Napoli barely invested in the summer transfer market while the deals they hoped to conclude over the winter failed to come to fruition leaving them with few options, especially in light of Arkadiusz Milik and Faouzi Ghoulam's long-term injuries.
However, there is an art to how Allegri manages his side, ensuring Juventus challenge on all three fronts and flourish at the business end of the season. Whether or not Italy crowns a new champion this season remains to be seen but Napoli will be there on Sunday, in Turin, ready for a fight.
Let's just hope no black cats are anywhere near the vicinity.