Kelty Hearts eye SPFL as they close in on debut season title with 100% record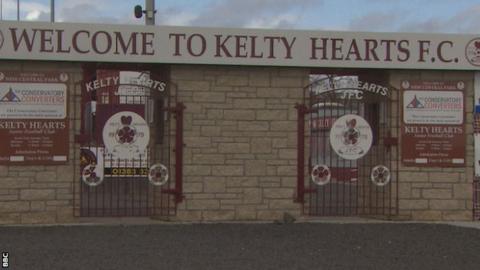 Kelty Hearts have already come a long way since Jim Leishman was given £5 in scratch cards and a red re-spray of his Ford Cortina for becoming the club's first manager.
Now the Fife side have their sights on a place in Scotland's top four divisions.
Having left the junior ranks, they have made quite a splash on their debut year in senior football, topping the East of Scotland League with a 100% record.
Victory away to nearest challengers Lothian Thistle Hutchison Vale on Saturday would seal a play-off with South of Scotland League champions Threave Rovers for a place in next season's Lowland League.
From there, Hearts would be one more successful campaign away from League Two.
"The progression they've made has been fantastic and to go the next step is a tremendous achievement," Leishman, now the Provost of Fife, told BBC Scotland.
And Leishman, who went on to lead neighbours Dunfermline Athletic from Scotland's bottom tier to the top, thinks Kelty is already "a tremendous story for all the ambitious junior teams".
When a new pyramid system was devised to provide a pathway to the top leagues, clubs from the semi-professional junior leagues were wary.
Kelty made the break last year and manager Thomas Courts believes they are reaping the benefits.
"Once we actually looked into the financial model of being an East of Scotland senior club, it looked pretty much right from the outset that there was more sustainability for the club," said the 36-year-old former defender.
"For us, it was quite a simple decision in the end."
Courts, who played with Livingston, Cowdenbeath and East Fife, took charge when Kelty had hit a downturn of 20 games without a win in 2013.
However, recruiting a whole new squad, which includes former Blackpool and Dunfermline midfielder Stephen Husband, has created a side that has a goal difference of +130 from 22 wins this season.
Asked how far he could take them, Courts said: "I don't want to put a limit on that because I think the key aspect of moving into the pyramid structure is that there's limitless potential.
"We have given this community, a sense of pride, a sense of identity."
Kelty's population has shrunk by almost a third to 6,000 following the demise of the coal industry, but the football club have benefitted from £7m of council and business investment in facilities that include a new artificial playing surface and a main stand with seating for 350 to be built this summer.
Co-chairman, Ian Thomson, believes his club had outgrown a junior set-up he believes is struggling to compete.
"There is a ceiling," he said. "To win the East Super League, as we did, two years out of three, there's nowhere to go.
"We had a successful time in the juniors and we loved every minute of it. However, in the pyramid, you have the chance of moving further up the tree."
And Thomson suggests the senior switch has brought a "freshness" to their fixture list and his side regularly attract attendances of around 400 fans - roughly comparable to League Two.
Several of their former East Region rivals, like Bonnyrigg Rose and Camelon, are now believed to be considering their own applications to join the pyramid structure.
Less than three miles down the road from Kelty, Cowdenbeath are facing a play-off to preserve their place in League Two, but Thomson would rather avoid a Fife derby in the Lowland League next season.
"We want all the Fife clubs to do well and we're trying to help, along with other clubs, to raise the £135,000 that's well documented is needed to save them," he said.