Man City want to be one of Premier League's greatest teams - Kyle Walker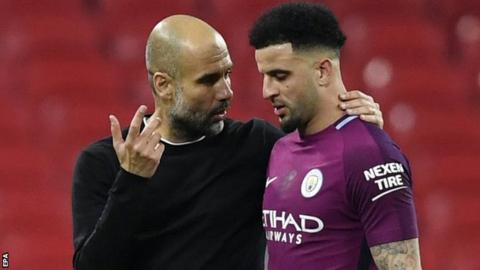 Manchester City want to be regarded as one of the greatest teams in Premier League history, says defender Kyle Walker.
They won the title with five games to spare on Sunday when Manchester United suffered a surprise home defeat by West Bromwich Albion.
City have 87 points this season, 16 points ahead of second-placed United.
"There is still a lot of room for improvement," England international Walker, 27, told BBC Radio 5 live.
"I have read some articles that say we need to win things continuously for a number of years before we are classed as a great team.
"Every single one of us wants to be recognised as one of the greatest teams to play in the Premier League.
City lost 5-1 on aggregate to Liverpool in the Champions League quarter-finals.
"If we concentrate on ourselves then as a team we can go on to great things," said Walker, a £45m signing from Tottenham last July.
"But the Liverpool game showed us that we are not a perfect team."
City's title triumph came in manager Pep Guardiola's second season in charge, a campaign in which they also won the League Cup.
Guardiola won the Champions Leagues twice and La Liga three times with Barcelona, and the Bundesliga three times with Bayern Munich.
Speaking on BBC Radio 5 live's Pep Guardiola programme, Walker said: "Different managers have different ways of looking at things and the gaffer here is special.
"He has won everything you want to win. Bar three people in the dressing room, no-one has won the Champions League. He has done it on a number of occasions so you have to buy into his philosophy and his way of playing."
Walker provides an insight into what it is like playing under Guardiola. He reveals:
Fine margins - Guardiola's eye for the little details
"It's just the detail and simple things that probably others mangers bypass but he keeps banging on about it and banging on about it, day in and day out, until the penny drops. It has shown in our performances.
"It's things like if the passes come in, you take it with the correct foot. As footballers we do get lazy sometimes and take the ball with our preferred foot to control it, but that split second of controlling it with your left foot and playing with your right can make all the difference in creating a chance or scoring a goal.
"There are also all sorts of things tactically. I don't get forward as much as I probably did at Tottenham but my defending has come on leaps and bounds here, where I have had to think a little bit more about my positioning and where I need to be on the football pitch.
"I have saved my energy in a lot of the games this season just by staying back and controlling my winger, which is something he does go on about a lot.
"The first half of the season was where I had to really concentrate. I am still learning in training now.
"I spoke to Leroy Sane and he said it took him maybe eight or nine months before the penny dropped in training what he needs to do to get the better of people in the possession games."
Coffee with Pep - the door is always open
"If you didn't believe you were doing something wrong or you could do something differently, he always says come and knock on the door, have a coffee with me and we'll go through it on the computer.
"He texted me the other day because I beat him in the long drive competition in golf. Something like that, which I've never really had before... we can just exchange text messages. It is not like teacher's pet or anything. He is a friend. He is the manager, but he is a friend as well.
"It is nice that you can have a simple conversation with the boss and have a text not about football, just about golf."
'He makes you always want to impress him'
"There are constant instructions (from the touchline) and for me sometimes it works and sometimes it doesn't. It is probably because I want to impress him.
"He put the faith in me to sign me and the first text message I sent him after he won the league was to thank him - thank him for bringing me here and for putting the trust in me to play for your team. He said never to thank him and it was us guys who did it ourselves. It makes you feel good.
"Before you go on the pitch he makes you feel like you are the best player on the field. His emotions do run away from themselves sometimes and he knows that, but I would not change that for any other way because I know he is passionate about his job."