Gaetan Bong says conscience clear after Rodriguez allegation found not proven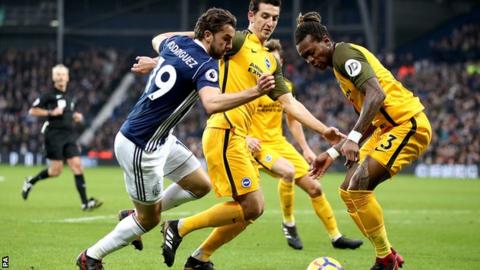 Brighton defender Gaetan Bong says his conscience is clear after his claim of racial abuse against West Brom's Jay Rodriguez was found "not proven".
Cameroon international Bong said the incident took place during the Baggies' 2-0 win at The Hawthorns on 13 January.
"I would never seek to bring a false charge against a fellow professional. My conscience in raising the complaint is therefore entirely clear," he said.
"Please let me be clear: I know what I heard and I did not mishear."
Bong said those who had accused him of making a false statement "do not know me".
The 29-year-old added: "Only Mr Rodriguez and I know exactly what was said and I stand by my original complaint."
Rodriguez, who has one England cap, appeared to pinch his nose and say something after they clashed, with Bong then speaking to the referee.
In his evidence to the Football Association, Bong said he was "100% certain" Rodriguez, 28, had racially abused him, but the West Brom player denied he had used racist language.
The FA concluded its investigation into the allegation on 13 April and said it was "completely satisfied" Bong's complaint was made "in absolute good faith".
Following the decision, Rodriguez told the BBC "the truth always comes out".