BBC Women's Footballer of the Year 2018: Sam Kerr profile
Last updated on .From the section Women's Football
We are profiling each of the five nominees for the BBC Women's Footballer of the Year 2018 award. Voting has now closed but you can see all the contenders' profiles and read full terms here. The winner will be revealed on Tuesday, 22 May during Sport Today on BBC World Service from 18:30 GMT (19:30 BST), on BBC World News and on the BBC Sport website.
Age: 24 Position: Forward Plays for: Chicago Red Stars, Perth Glory and Australia
Snapshot of 2017: Top scorer in National Women's Soccer League (NWSL) with 17 goals and became the league's all-time leading scorer with 43, top scorer as Australia won Tournament of Nations (four goals)
Did you know?
Kerr is the leading all-time goalscorer in the NWSL in the United States with 43 goals

She was named Young Australian of the Year 2018 in January

Her dad Roger and brother Daniel both played professional Aussie Rules

She has Indian heritage - her father moved from India to Australia when he was 10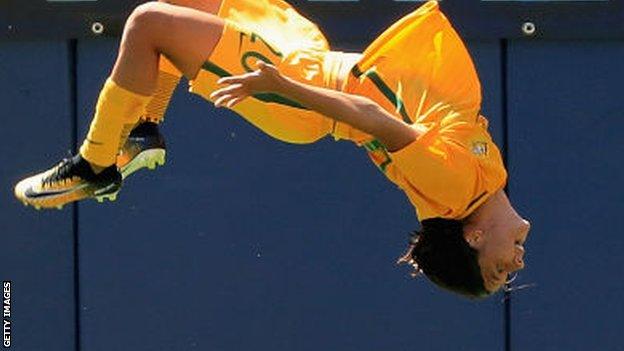 Being nominated:
"There are so many great players that I look up to and I don't put myself in the same sentence as them so obviously it's a huge honour and a pretty surreal feeling, to be honest."
In her own words: Records, backflips & Aussie Rules
I was 12 when I started playing football. I was a bit of a late bloomer - being from Australia, I played Aussie Rules my whole life.
My family grew up on the game but there was no real pathway for women at that point in the sport so I made the switch to football.
I can't say I loved the game at the start but after a year I fell in love with football. I realised I wanted to be a striker and from that moment on it's just been go, go, go. I don't know who I'd be without football.
I'm part of such a great team in the Matildas and I'm happy that I've finally started scoring goals so consistently.
Winning the Tournament of Nations was a highlight of the last 12 months.
I scored my first ever hat-trick for the Matildas against Japan, then to win the tournament was just that moment where we really believed we could be the best nation in the world.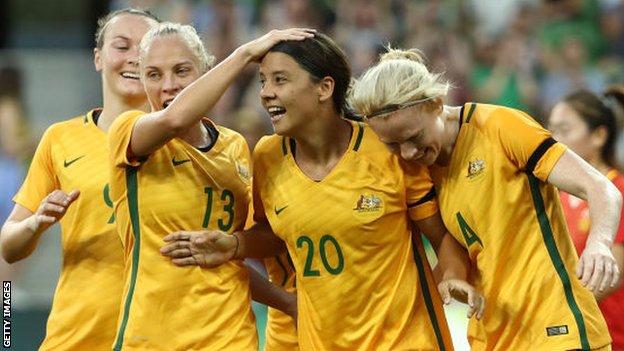 Breaking the NWSL goalscoring record was pretty amazing for me too. I'd love to win a World Cup, it's my dream to lift a trophy with the Matildas at a major tournament, I'd love to win an Olympics.
After scoring a goal, sometimes I do a backflip, I started doing them when I was about seven or eight, I used to watch gymnastics and taught myself.
I didn't do it for ages after all my injuries but when I scored my first hat-trick it just came out and it's been a thing ever since.
I love celebrating, whether I'm doing a backflip, sliding on my knees, hugging my team-mates, it's pure emotion and it's fun.