BBC Women's Footballer of the Year 2018: Lucy Bronze profile
Last updated on .From the section Women's Football
We are profiling each of the five nominees for the BBC Women's Footballer of the Year 2018 award. Voting has now closed but you can see all the contenders' profiles and read full terms here. The winner will be revealed on Tuesday, 22 May during Sport Today on BBC World Service from 18:30 GMT (19:30 BST), on BBC World News and on the BBC Sport website.
Age: 26 Position: Right-back Plays for: Olympique Lyonnais and England
Snapshot of 2017: Scored in final as Manchester City won FA Cup, joined European champions Olympique Lyon
Did you know?
Bronze could have played for Portugal - her father is Portuguese, her mother is English

She turned down a deal which would have made her Manchester City's highest earner to sign a three-year contract with Lyon last year

She was named PFA Women's Players' Player of the Year in 2014 and 2017, and also the English FA's Player of the Year in 2015

She has played for both Everton and rivals Liverpool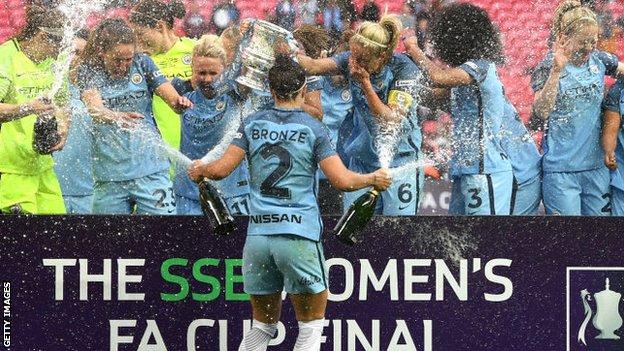 Being nominated
"It's kind of overwhelming to be nominated because I think about the people that have been nominated in the past couple of years and it's people who stand out internationally. It's a huge honour to be nominated."
In her own words: Pain, joking & lifting cup
Signing for Lyon was a big thing for me and for women's football, it's a big deal when someone signs for Lyon with the history they have as a women's team.
That was a standout moment, even them calling and saying they would like to sign me. It was like being a little kid again.
My mum and dad weren't really into football so we didn't have a lot of football on the telly when we were younger because we were always out playing.
I wanted to be like my brother when I was little. He loved football and going out playing with his friends and he was a good brother because he let me play!
Over the years I've had to find a way through difficult times with injuries, being in a lot of pain. Maybe a year and a half ago I was in so much pain I couldn't even train.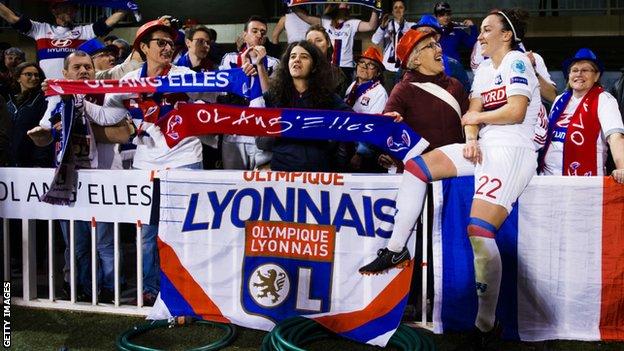 Nothing would stop me though, it would have to be someone pinning me down and saying you have to stop playing. I can't imagine a life without football.
Last year's FA Cup final when I played for Manchester City was one of those special moments, scoring a goal, winning the game, the whole experience of that, lifting the Cup was something pretty special.
I can still picture walking up the stairs and holding the trophy up - that's really special.
I tend to be one of those people that enjoys every single moment around games, people sometimes have to nudge me to be a bit more serious but I just want to enjoy it, my career's not going to last forever.
You'll probably see me with a smile on my face and joking but I take the game 100% seriously.